Harry Potter and the Cursed Child Feels Like It Was Created to Hurt
"Harry Potter and the Cursed Child Feels Like It Was Created to Hurt" is a harsh title but allow me to explain.
[Editor's Note: Spoilers to follow for the script book of Harry Potter and the Cursed Child.]
I thought about titling this post "The First Time Harry Potter Has Disappointed Me" but that's not strictly true. I was disappointed by a few things in the films and I've certainly been disappointed in J.K. Rowling's handling of North American wizard lore. But this is the first time a story in that world has disappointed me as a whole.
I should probably say first that I wasn't against this new story in the least, because I know a lot of people were in general and specifically because Jack Thorne wrote the play (even if it was based on Rowling's story). In fact, I was very excited for it. But upon finishing the book I feel like perhaps they should have left well enough alone.
Why? Because we opened old wounds and retread our old steps for what didn't amount to a very good story in the end. The two-part play is billed as "the eighth story" and "nineteen years later" and while these are "new" adventures, they're actually just recycled – because time travel.
Yes, even though Rowling did a time travel story in Harry Potter and the Prisoner of Azkaban (to great effect!) she and Thorne (I'll continue to give both credit since we don't know which ideas belong to whom specifically) decided to give Time-Turners one more go. This main concept is where it all went wrong for me, sadly. I was interested in seeing Harry, Ginny, Ron and Hermione's children go on new adventures, what I wasn't expecting was for those adventures to have a direct correlation to every story that came before. Cursed Child winds up feeling like an extended epilogue of the book we literally closed the book on already.
I should probably say at this point I didn't hate Cursed Child, but I didn't find much to love either. And that in and of itself hurts me. Harry Potter is one of the things I love most and to come away from a new story feeling let down was a bit heartbreaking.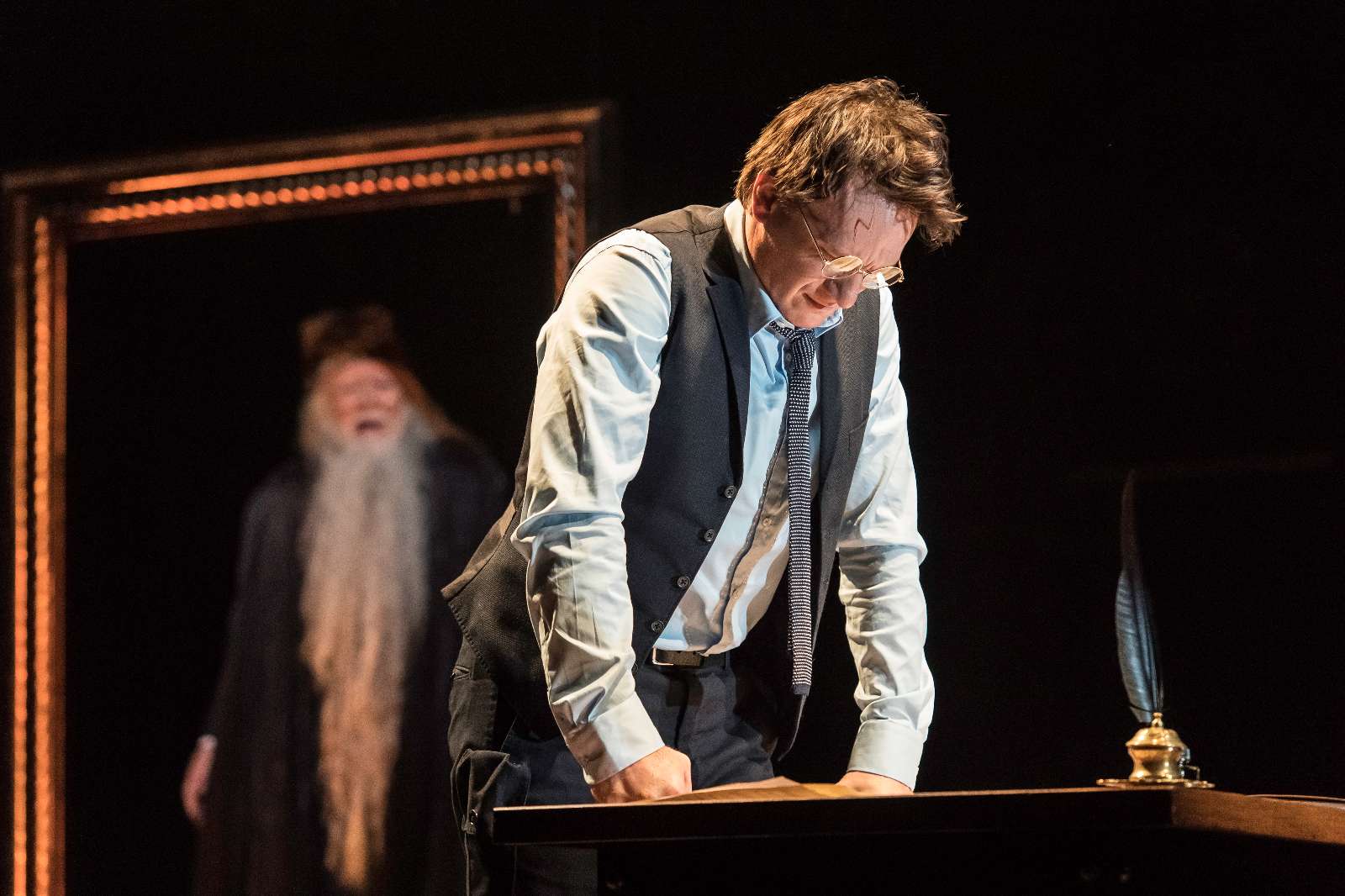 So what about that story? We realize pretty early on that while this is meant to be a story about Albus Severus Potter and his struggles, it's still very much about Harry and the problems, both old and new, he's trying to deal with. We don't really have time enough to delve into both even if they're inextricably linked. What we do have time for is time travel, apparently.
We find out that Harry and Albus' relationship is strained. But we have no idea how his relationship compares to Harry's other kids because Potter children James and Lily have no part in the story at all. Rose Granger-Weasley has a slightly larger, albeit problematic role (her only purpose is to serve as a crush for Draco's son Scorpius), and her younger brother Hugo might as well not even exist. Teddy Lupin is also nowhere to be found.
We quickly skim over the first few years Albus has at Hogwarts – he and Scorpius become friends, he gets sorted into Slytherin, he feels generally out of place at school and at home – and come to the conclusion in his fourth year he should save the life of Cedric Diggory. Yes, killed by Voldemort in the fourth book and part of Harry's character development Cedric Diggory.
What could go wrong?
Everything, obviously. With some urging from Amos Diggory's "niece" Delphi, Albus and Scorpius use what is believed to be the only Time-Turner left to go back to the Triwizard Tournament and make it so Cedric loses and never winds up in that graveyard with Harry. They're interference causes them to return to an alternate present (just like Back to the Future 2) where everything has changed.
Instead of going back and simply undoing what they screwed up, they double-down and change something else during that same time period which makes for an even worse alternate timeline in which Harry is dead (therefor Albus doesn't exist at all) and Voldemort rules with bloody fury. In this timeline, Cedric became a Death Eater because he was humiliated during a big Wizarding competition. Think about that. Oh yeah, and he went on to murder Neville. Some of these details are dropped like it's no big revelation when in fact it very much is both in universe and out.
That brings me to my next big issue in the story. Using a Time-Turner in this was feels like nothing but tawdry tricks to create "fake" pain for the audience. While Rowling has killed off many beloved characters in the seven books, I never felt like she was doing it to purposefully hurt us (ok maybe with the exception of Lupin AND Tonks going out at the same time), it's where the story took her. Thanks to this time travel narrative we are stabbed numerous times with many small knives in Cursed Child but nothing is permanent.
Ron and Hermione are not a couple in the first scenario which leaves both significantly worse off – Ron apparently losing all humor thanks to his wife in this reality, Padma Patil (I can barely talk about this particular angle as it angers me so – here read this instead), and Hermione is a terribly mean, as bad as Snape, teacher at Hogwarts. Speaking of which, Snape is "returned to life" in the second scenario only to sacrifice himself yet again to the cause and Ron and Hermione finally reveal their love for each other just before being soul-sucked by Dementors.
I swear to god I expected Sirius to pop up at any second to regale us all with his fantastical adventures behind the veil. It all felt so cheap.
But they started it and though the kids finally wised up, they were pulled into further time jumps by Delphi who, as it turns out, is the daughter of Voldemort and Bellatrix Lestrange. (*break for super awkward gross feels*) Everyone, parents and all, wind up jumping to the day before James and Lily Potter were murdered because Delphi is desperate to meet her father. And also so Harry can watch his parents die again, this time from afar, in real life. At that point, we'd already gone so far down this ridiculous path, I could barely be bothered to have feelings about that.
So yeah, a lot happened in Harry Potter and the Cursed Child but perhaps most important is what didn't happen. And that's an LGBTQ+ relationship. Namely between Albus and Scorpius.
ALBUS hugs his friend. With fierceness. They hold on for a beat.

SCORPIUS is surprised by this.

SCORPIUS: Okay. Hello. Um. Have we hugged before? Do we hug now?

The two boys awkwardly dislocate.
Upon first reading this I immediately thought that's where we were going. Not that two boys/men can't show non-sexual affection like this but because it felt right in the story. At one point Scorpius is jealous of Albus' budding friendship/romantic relationship with Delphi. "He looks at his friend talking to a girl — and part of him likes it and part of him doesn't." And even Delphi herself later says, "Find him, Scorpius. You two — you belong together."
And later…
SCORPIUS reaches in and hugs ALBUS.

ALBUS: What's this? I thought we decided we don't hug.

SCORPIUS: I wasn't sure. Whether we should. In this new version of us — I had in my head.
"I thought we decided we don't hug." They didn't. "In this new version of us — I had in my head." They changed so much, could they finally change their friendship into something more as well? That's how it read to me but nothing is spelled out in the text the way you know it would be if the writers intended them to be together. There's even one last urging toward Scorpius and his crush Rose near the end, just in case there was any confusion.
Rowling has gone on record to say Dumbledore is gay and even though it certainly feels as if he and Gellert Grindelwald had something more than a friendship, she's also said Grindelwald didn't reciprocate the feelings. "You two — you belong together." Albus and Scorpius sure do and why Rowling and Thorne didn't see it or acknowledge it is hugely disappointing.
But there were a few strong points in the story. I particularly liked that Draco finally got some real character development. We knew he went through a lot off screen in the last few novels but this is the first time we got a chance to really hear his side of things. He opened up a lot more emotionally too. Hermione is Minister for Magic, which is fantastic, but doesn't really get to do all that much in that particular role during the text. And Ron seemed like the corny dad I always imagined he'd grow up to be.
Shit. I've run out of positive things to mention. Maybe I liked it even less than I first imagined?
There were certainly a few other issues I had, Ginny being almost as inconsequential as an extra, for one. Love potions (a.k.a. date rape drugs) still being not just a topic but encouraged by adults (Ron, and that's really his most significant addition to the story as well) wasn't great and neither was Delphi, a 20-something, basically being paired off with Albus, 14. And don't get me started on Albus kissing Aunt Hermione while disguised as Ron. So unnecessary.
Harry just now addressing his anger with Dumbledore though his painting felt wildly out of place to me. Not just because he already talked through a lot with Dumbledore when he "died" and met him at King's Cross but because I felt like it would have happened sometime before then, if at all. I think dealing with Dumbledore and the strange aspects of wizard paintings was best left alone or, if they were insistent on his inclusion, have a discussion with McGonagall in the Headmasters office instead.
I can't wrap up here until I talk about possibly the most ridiculous thing in the entire script and that is the Trolly Witch from the Hogwarts Express. Not only is she revealed to be 190 years old, while trying to prevent Albus and Scorpius from getting off the train she proceeds to transform Pumpkin Pasties into FREAKING GRENADES and LAUNCH THEM AT THE STUDENTS. Her hands also transfigure into "very sharp spikes" and I'm sure I'll be having nightmares about it from years to come. It makes absolutely no sense.
I could probably go on much longer about what I think the story should have done to be more successful overall but it is what it is. As a fan, it didn't add anything of real value to the lore for me and quite simply, that makes me sad. It was trying too hard to be a Harry story under the guise of an Albus and friends story. There's certainly a lot to be delved into here regarding what it means to grow up, parenthood, and more but because it's a play and not a novel, they can't.
But I do wholeheartedly feel Cursed Child suffers terribly for not having actually been written by Rowling. Thorne, whose work I'm unfamiliar with, doesn't seem quite capable of grabbing her tone, characterization, or world. Of course it being a script and not a novel also hurts it from being read as a regular story as well. We don't get the remarkable detail Rowling is adept at nor do we get introspection of our main character(s). This format just can't compare.
And yes, I'm absolutely sure something is lost not seeing the story play out as it was intended on stage. I've definitely seen a few fans warn people off reading it if they're intending to see the play soon. We don't "see" the world as we're truly meant to and we don't see the actors' emotions but if it were truly a good story I don't think that would matter as much. I would definitely still love to see the play myself if I have the chance down the road, if only to see how they accomplished some of the more fantastical scenes, and I'll be interested to hear what changes after previews.
Unlike Rowling's other book titles in the series, the cursed child of Cursed Child isn't clearly defined. Is it Albus? Scorpius? Delphi? Harry himself? Or is the cursed child all of us? I'd lean toward Harry since, after all, Cursed Child is still very much his story. And it's one I think should finally be put to bed.
[Editor's Note: Affiliate link] Harry Potter and the Cursed Child – Parts One & Two (Special Rehearsal Edition Script) is available now.