Jill Pantozzi and the Grown-Up Harry Potter Midnight Release
Knowing what a big Harry Potter fan I am, I had to get myself to a midnight release party for J.K. Rowling's Harry Potter and the Cursed Child. But this time I thought I'd try something different – the grown-up version!
Now, you know me. I like getting dressed up. I was going to wear some of my regular HP gear but then I remembered my wonderful mom gave me a surprise a few weeks ago. That purple dress? She found it at a rummage sale! And someone made it themselves, it wasn't from a store. I wasn't sure it was going to fit (it doesn't have a zipper) but with a little help from my fiancé I was able to get it on and feel like a total witch.
My good pal Victoria McNally (formerly of TMS and MTV, now at Revelist) was actually the one who found out about the party. She was going to be covering it for work and since every other one I saw was the same kind of midnight release I'd been to already, I figured why not? The night was put together by WORD Brooklyn and Hypable and held at Villain LLC in Brooklyn.
I wasn't sure what the crowd would be like, this was Williamsburg after all. There was a line around the corner when we arrived but the venue quickly got us all in and then I realized they underestimated how much we would all want to drink. This was the line for the bar, which was sadly understaffed at first, and that we waited on for about 45 minutes to get a drink.
This wound up being my only drink of the night because of that but it was a good one – Butterbeer, of course!
They also had Quidditch pong set up but I don't think anyone was playing it correctly…
Here I am trying to save some memories of the evening…
Just after midnight, the folks from WORD started giving out the new book. Considering how many people were in attendance, they go through us all pretty fast. I wasn't sure what everyone else was going to do but I was ready to get home immediately and start reading. Turns out most of the other fans there had the same idea.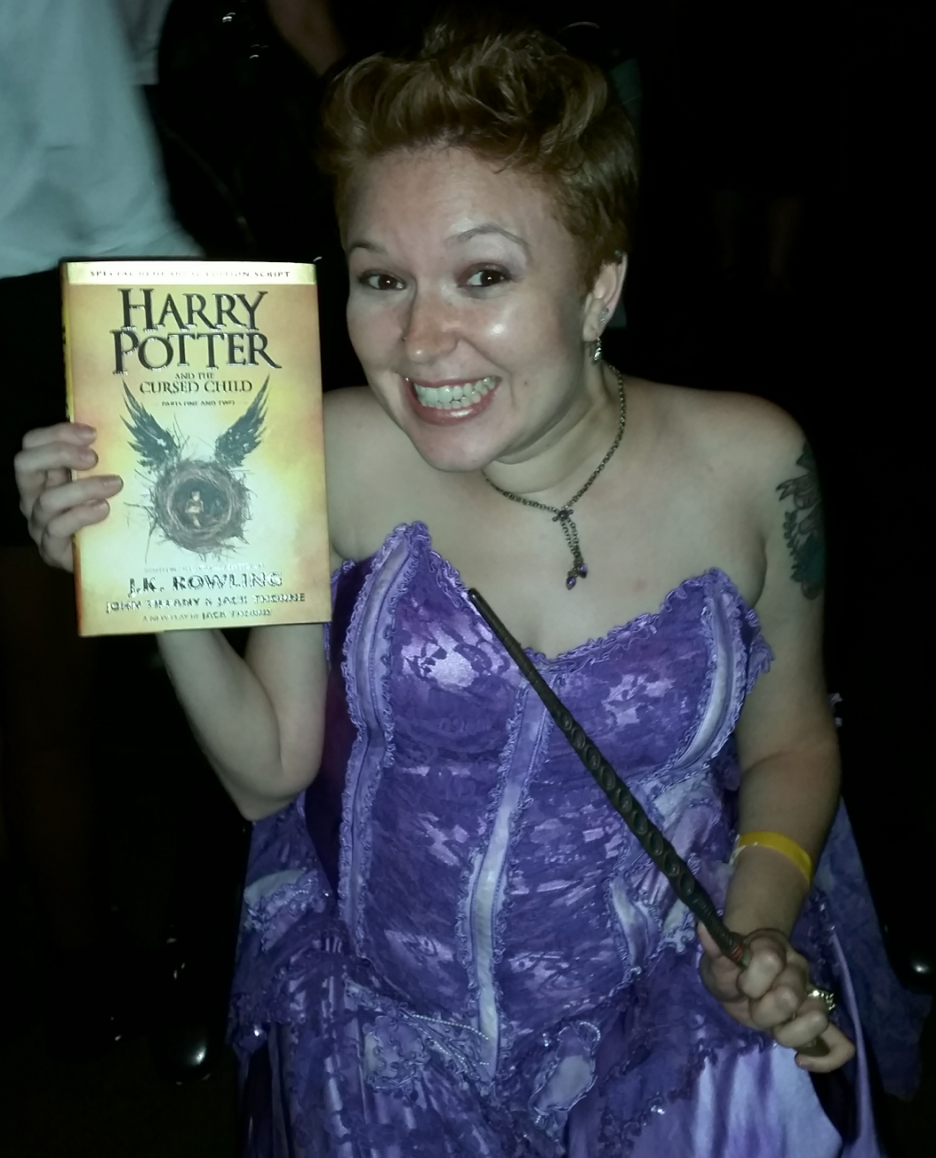 Overall it was a good event but not quite what I expected. While there were fans in costume, there weren't nearly as many as them as I thought there would be. It was also a very club-like atmosphere inside and while some of my group thought this was odd, I wonder if it's just what everyone else there wanted (I would have been happy listening to the movie soundtrack for two hours). While it was a 21+ event, a few small children showed up with their guardians, which was also a bit strange considering the atmosphere.
I think I'd like to go to another grown-up HP release party but maybe I should organize one next time?