Helen Slater is still 'Super'
Ok I lied. I do have one more thing for you today. I had the pleasure of interviewing actress/musician Helen Slater recently for Comic Book Resources and the article has just been posted.
Slater's portrayal of Supergirl was something that influenced me heavily when I was a young girl, not to mention her role in The Legend of Billie Jean (though I never did get up the nerve to do the haircut). She was beautiful, extremely friendly and gracious making the interview an absolute pleasure.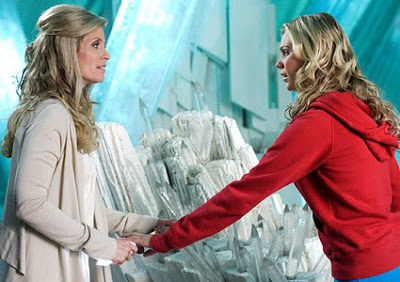 You all know I've loved Supergirl since I was a wee lass so needless to say this was a very special interview for me. I hate to sound corny but it was really a dream come true getting to meet and chat with her.
It's been 25 years since "Supergirl" was released in theaters, and CBR News recently sat down down with actress Helen Slater and discussed her famous role, her upcoming co-writing gig on "Supergirl" #50, her turn on "Smallville" and more.
Check out the interview, Helen Slater is Still 'Super' at CBR and don't forget to leave comments in the forum there!