Hermione, Ron, & Their Daughter Rose Step Into Costume For Harry Potter and the Cursed Child
SHE IS THE CUTEST.
Yesterday we got our first in-costume images from the sequel play Harry Potter and the Cursed Child. They featured Jamie Parker as Harry, Poppy Miller as Ginny, and Sam Clemmett as their son Albus Severus. Today it's time for the Granger-Weasley clan and my heart couldn't be more full.
Cherrelle Skeete plays Rose Granger-Weasley, Paul Thornley is Ron, and Noma Dumezweni is Hermione.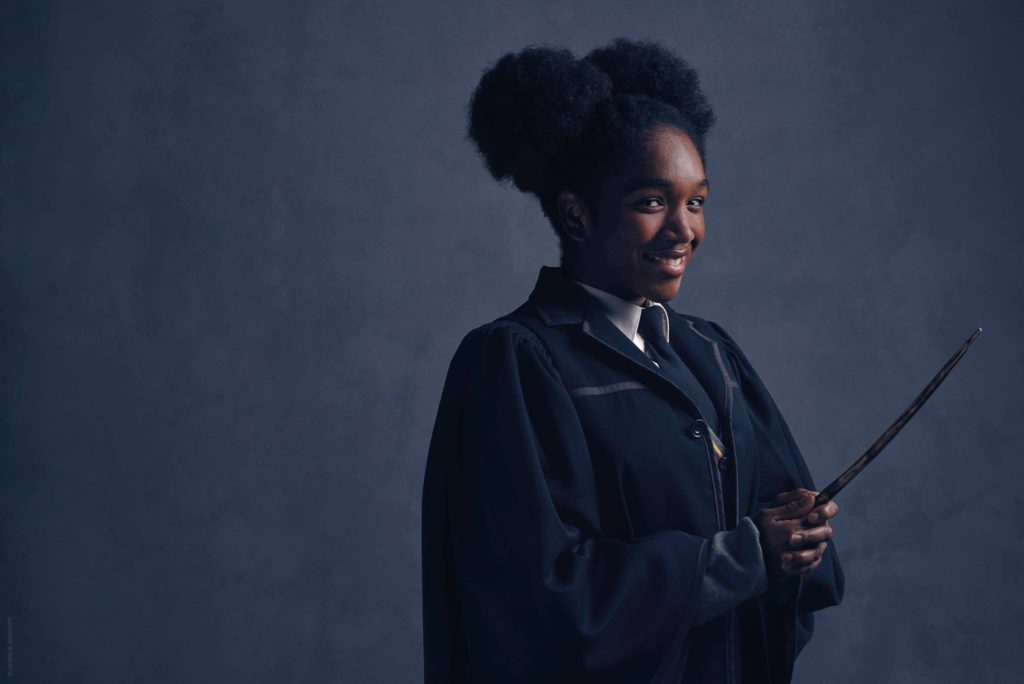 Rose Granger-Weasley, excited to start at Hogwarts. Played by Cherrelle Skeete in the new play Harry Potter And The Cursed Child. J.K. Rowling: "Rose is like her mother, but more secure, more grounded. She was born to wizards and knows her place in the world. Cherrelle plays her perfectly: bossy but deeply loveable."
"I can't think about how big it is or I'll just faint. Putting on my uniform, ready to go to Hogwarts, and seeing everyone else in their uniform was exciting. I've been looking at it every day in the wardrobe department, waiting for the day I can get on the Hogwarts Express," Skeete told
Pottermore. "Rose is ambitious, obviously her mum is Hermione so she's got a lot to live up to. I think they're quite similar in the fact they put a lot of pressure on themselves. And she just wants to do the right thing."
Ron Weasley, in his favourite knitted jumper. As played by Paul Thornley in the new play Harry Potter And The Cursed Child. J.K. Rowling: "Ron in his forties isn't very different from Ron in his teens, except that his feet hurt a bit more. Paul's so funny and brilliant in the role."
"We had to make it look as though he doesn't really care what he wears in the morning," Thornley told them. "We wanted to find a jumper, that is definitely his favourite jumper, and that I think gets washed occasionally. He wants to essentially be comfortable at all times, hence comfortable cords, comfortable jumper, comfortable shoes. I don't believe he's a man who spends an awful lot of time shopping."
Hermione Granger, played by Noma Dumezweni in the new play Harry Potter And The Cursed Child. J.K. Rowling: "I saw Noma workshop the part and when John Tiffany told me he'd cast her, I was overjoyed. She gets Hermione inside out."
"Being in full costume for the first time was stunning, because I went, 'Ahhh there you are,'" said Dumezweni. "Every time I'm in the auditorium I turn around to people or say to myself, 'I'm in that show, I'm in that show.' I want to see it so much. I am so proud that I am in it."
There's going to be another reveal tomorrow so stay tuned! Is it just me or does Rose look like she's got some Fred and George mischief in her in that first pic?