Hey, That's My Cape! – Comic Books, Race, Change, & Hate
Diversity in comic books. It's been a hot button topic for a long time. Whatever their specific reasons, there are two very vocal camps; those who welcome changing familiar superheroes with ethnically and racially diverse characters and those who hate it. That's overly simplifying things, sure, but that is really what it boils down to isn't it? Don't believe me? Read a few message boards or articles pertaining to the new
Ultimate Spider-Man
.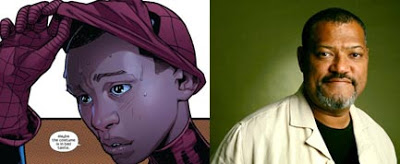 Some really disgusting comments were made online after the announcement of Miles Morales, a half-black, half-Hispanic character, taking up the mantle from the deceased Peter Parker in Marvel's Ultimate Universe. I've been on the internet, I've seen disgusting, this was a new low.
Read my thoughts on race, superheroes and fan reaction in this week's
Hey, That's My Cape!
at
Newsarama
.