Hey, That's My Cape!: The Night Owls
I've always considered myself a night owl. If you ask me to wake up before noon you'll be met with a hearty grumble or at the very least, a weak sob. More than once I've been compared to a vampire, something I take as a proud compliment even if it wasn't meant as such. Maybe that's why I like
The Night Owls Volume 1
.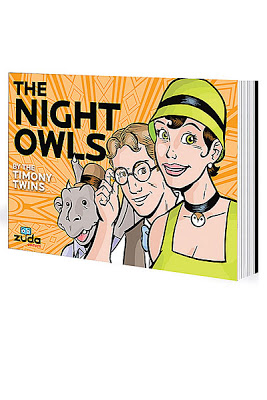 It's the latest release from DC Comics' web imprint Zuda. Written by Peter Timony and illustrated by his twin brother Bobby Timony, the witty web comic follows three members of a detective agency solving supernatural crimes no one else can. Did I mention the series takes place in the roaring twenties and that one of the detectives is a gargoyle?
Read all about it for this week's
Hey, That's My Cape!
at
Heartless Doll
.