Hey, That's My Cape! – Too Many BATMEN Could Spoil The Cowl
What is Batman? Is he a person or an idea? Man or myth? Depending on the person you're asking, real world or fictional, you'll get a varying degree of answers but one thing has always been true. Batman is one person. Until he wasn't. Oh god, this is going to make my brain hurt, isn't it?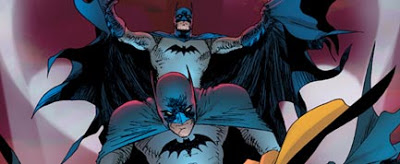 Surprise of the year! (insert sarcasm) Bruce Wayne will be returning not only from the dead or the time stream or his acid trip but to his old job as Batman. Yes, comic fans already knew this was inevitable so what's the big deal? The NY Post reported earlier this week that Bruce's protégé Dick Grayson would not be taking off his clothes. I mean, removing his costume. I mean, stepping down as Batman.
Check out my highly debated opinion in this week's
Hey, That's My Cape!
at
Newsarama
. They've even included a nifty poll on who you think Batman should be so go read and vote!