Holy Batman, Batman!
Is there such a thing as too much Batman? Haha, no. But seriously there is a sudden flood of Batman comic books lately. Detective Comics, Batman, Nightwing, Robin and the Birds of Prey all went on hiatus for a few months during Battle for the Cowl. Now that they've started up again the list goes: Detective Comics, Batman, Batman and Robin, Red Robin, Batman: Streets of Gotham and Gotham City Sirens. Granted, that's only one more than before and not all of the new titles actually have Batman in them but it got me thinking. What other new titles came up during that brainstorming session for new books? Here's a few possibilities that never saw the light of day.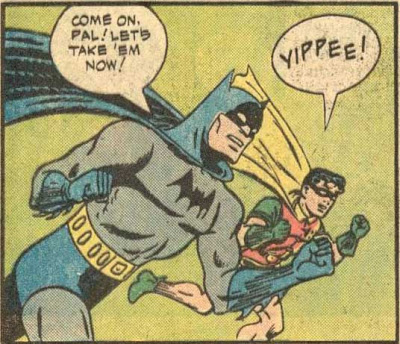 Dentist Comics – Because fighting tooth decay is just as important as fighting crime.
Dratman – A senior citizen sets out to fight crime in Gotham but is always five minutes too late. Drat!
Batman and Batman – Why have one Batman when you can have TWO?!
Red Rollins – Singer Henry Rollins is tired of all these pussies running around Gotham. He's here to kick ass and take names. In jean shorts.
Batman: Street Sweeper – Batman spends his nights doing the kind of cleanup Gotham REALLY needs.
Gotham City Pimps – Will prove pimpin' in fact, ain't easy.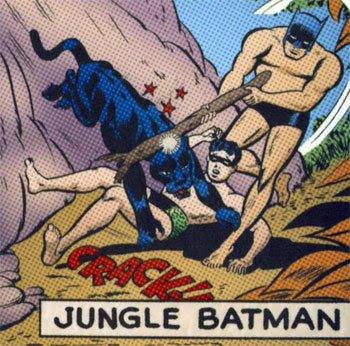 Speedo Comics – All speedos, all the time.
Batband – Friday and Saturday nights at Club Jam. Ladies in costume get in free.
Batman and the Penguin – Can the Dark Knight tame another wild bird?
Green Robin
– Tim Drake takes it on himself to make Gotham more eco-friendly. Second Feature: Poison Ivy
Batman: Libraries of Gotham – Every book must be catalogued into the Batcomputer. Can it be done?!
Gotham City Goliaths
– Follow Gotham's baseball team on the road, at the stadium and in the showers.
Detective Dick – Because Dick is the detective now. Get it?
Scatman – Ski bi di bi di do bap do Do bam do Bada bwi ba ba bada bo…
Batman and Captain America – Batman: "Aren't you supposed to be dead?" Cap: "Aren't you?"
Red Robin Williams – "My first day as Red Robin and I'm already having hot flashes!"
Batman: Sesame Street – "Greetings! I am the Batman. They call me the Batman because I love to bat things."
Gotham City Police Sirens – weeeoooo wwweeeeeooooo WWWEEEEEEEOOOO!