How Super is your Squad?
Game publisher THQ grabbed the rights to a huge franchise earlier this month, Marvel's "Super Hero Squad" animated series, which doesn't even have a network to air on yet.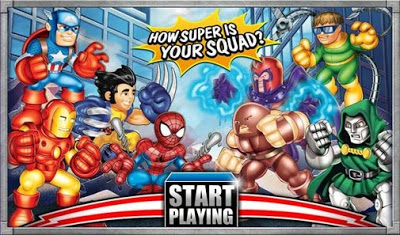 THQ is probably best known for their long standing relationship with Disney/Pixar and Nickelodeon so it's no surprise they were chosen to develop a game for this new Marvel series. "Super Hero Squad" is a fresh look at well known Marvel heroes aimed at 4-10 year-olds. Instead of each hero coming from their original hometowns, they'll be based in the newly created Super Hero City and work together. Besides the animated series set to launch in 2009, Marvel is really taking advantage of every outlet possible for their new venture including the video game and a
line of toys from Hasbro
.
THQ will likely produce more then one game if the series becomes popular.
Variety
reports they made a multi-year deal with Marvel that enables them to make games independently or tied to the property's various incarnations in other media. The first game, like the animated series, is set for 2009.
digg_url = 'https://thenerdybird.com/2008/05/how-super-is-your-squad.html';