I can stick Batman's head WHERE?!
There are some things you wait your entire life for. The one thing that will make your life complete. For some people it's the perfect job, for others, true love. Me? It's a
Limited Edition Batman MIMOBOT Flash Drive
. Hallelujah!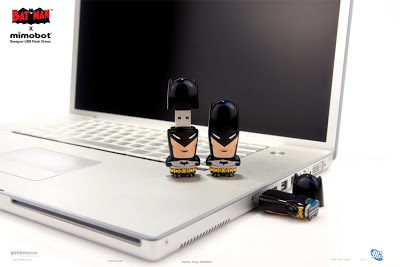 Hot off the presses from CES 2011, Mimeco, the company that does the MIMOBOT line of designer USB flash drives, has partnered with Warner Bros. Consumer Products and DC Entertainment to create limited edition DC superhero and villain flash drives. And no, they're not starting with Superman, they're starting with my boyfriend, Batman. To be more precise, they're starting with a limited 5,000 item run inspired by Batman's 1939 debut in Detective Comics. Someone gimme.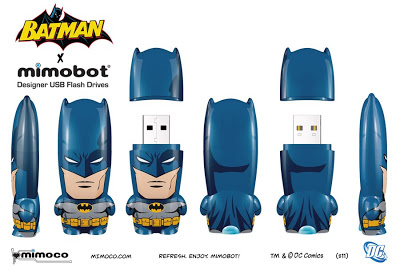 In the past Mimoco has partnered to create flash drives out of
Star Wars
characters, DOMO, Halo and Hello Kitty. The Dark Knight drive comes pre-loaded with exclusive Batman MIMOBOT wallpapers, screensavers, and avatars and will eventually come in the blue and grey version you see above. Oh, but they're not stopping there.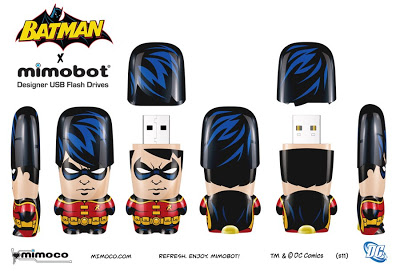 Of course wherever there's a Batman a Robin's sure to follow. "The DC super heroes lend themselves perfectly to the collectability of MIMOBOT flash drives and Mimoco is an ideal partner that delivers wonderful products to consumers," said Karen McTier, executive vice president of Domestic Licensing and Worldwide Marketing, Warner Bros. Consumer Products. "As lifelong fans of DC super heroes, we cannot wait to bring comic book lovers a wide assortment of MIMOBOT products that will span the DC Universe, and couldn't be happier to start with a nod to the premier Batman," said Evan Blaustein, CEO and founder of Mimoco.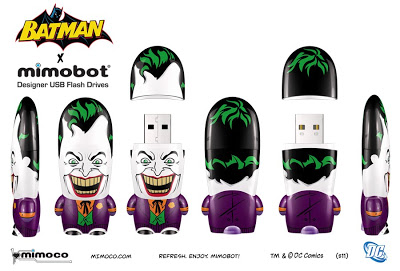 The Batman and Robin MIMOBOT flash drives would be lonely without a Rogues Gallery to fight. Hence the extremely creepy Joker and seductive Catwoman drives to round out the bunch. The limited-edition vintage Batman MIMOBOT is now available exclusively at
mimoco.com
and in select retail shops and comes in 2GB-16GB sizes, costing $19.95 – 59.95.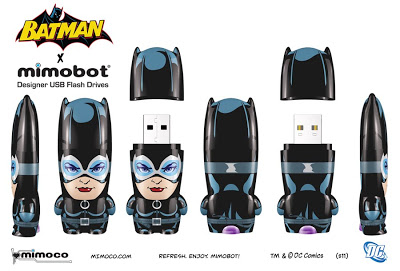 Even more MIMOBOT's will be released later based on additional DC Comics' characters, including Superman, The Flash and Green Lantern! Another big move by DC Entertainment to spread out their market base for sure. These are going to be hugely popular.