Idris Elba on His The Dark Tower Casting: "It Is a Sign of the Times"
Entertainment Weekly has graced us with the first official photos of Idris Elba from The Dark Tower and asked the Luther actor about his casting in the famous Stephen King role.
We've been seeing lots of photos from the set but these are fancy posed shots plus EW spoke with those involved. "For Constant Readers who are already steeped in King's lore, director and co-writer Nikolaj Arcel's movie (which debuts in theaters Feb. 17) will remix the novels much the way superhero movies often draw from decades of comics mythology to create a new cinematic origin story," they write, "The same stones, but a different structure."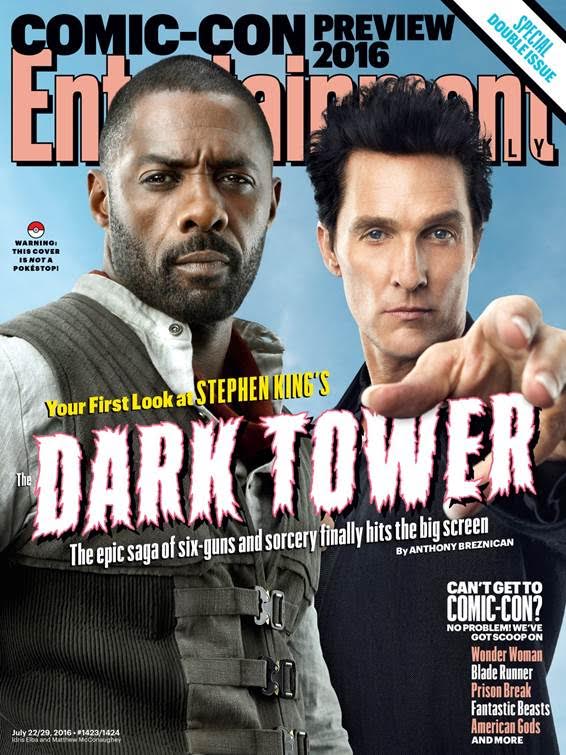 They also touched on the casting of Elba in the role which was written by Stephen King as a replica Clint Eastwood:
"I was thrilled. I was thrilled to get this job," Elba says. "I was thrilled because, you know, it's an alternative to what you could say, what Roland is described as."

I ask him if he means a white guy, and Elba shrugs. It's more than that. "A white guy in a sense, but, also just that you could make a version of this film that appealed to a slightly more action-hero type character and I don't do those films. I haven't done many actions films," he says. "I like to bring a little depth and bring a real character. And what's been fun is, Nik's really up for that. So we do takes that are a little bit more commercial, if you like, and we do takes that are f—ing deep, like we're making an independent film. It's an iconic character. I want to get it right."
"It's better just to treat it like no big deal," Elba continued. "There should be no difference. The character that was written in Stephen's imagination, it could be any color. It just happens to be me and, you know? In the artwork, it just so happens to be a white guy, but I don't think that makes any difference. … I think what's great about it, if I want to say anything about it, is that it is a sign of the times in terms of a colorless society. People go, 'A good actor is a good actor,' you know?"
You can read more at Entertainment Weekly and they'll be rolling out more coverage for The Dark Tower later on.
[UPDATE] Here's some more from EW.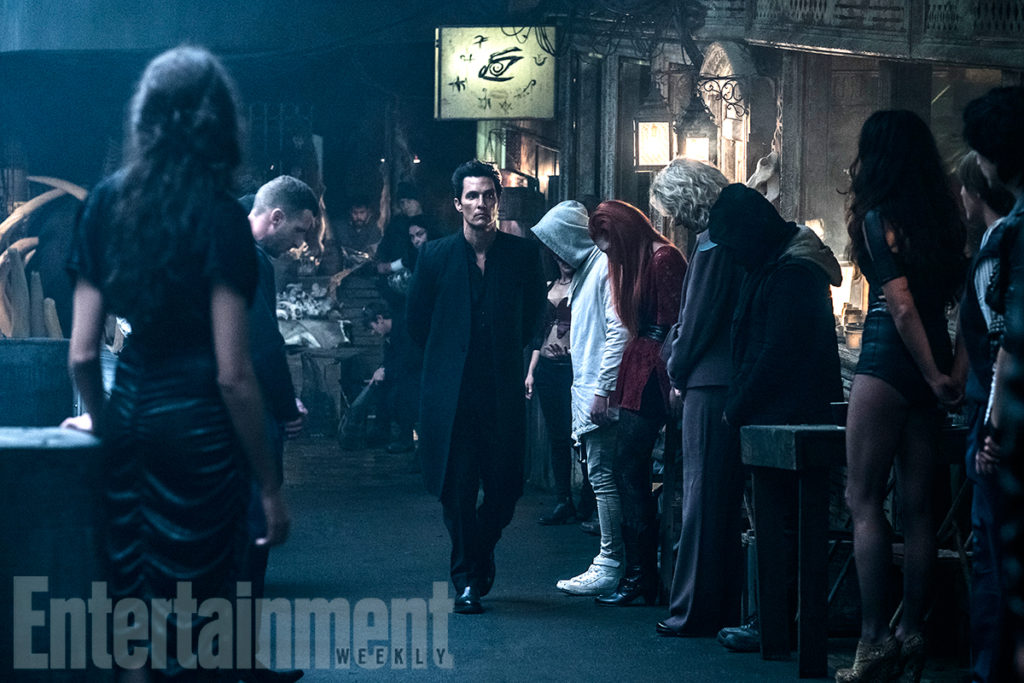 They asked McConaughey about his relationship with Elba's character. "I revere him," he told them. "He's really the only true adversary I have. I expose hypocrisies, and he's the closest to pure there is. It's his persistent, resilience to be good and altruistic. He's very precious to me. I almost don't want to see him go." And as for his own character:
"They wanted to go very human and grounded with this. Obviously there are mythical proportions of good and evil in Walter. But we didn't want to go overly fantastic. That would drop the humanity. So Walter, for me, is a man who exposes hypocrisies."

But if we're going to talk about total honesty, yeah … Walter's a bad, bad man.

McConaughey grins. The wind plays in his spiky, crow-feathered hair. "You know, he's not literally the Devil, but I sure as hell think about him like the Devil. I think like the Devil would."