Lego Man-Bat
Yup. He's in the game. And, he's kinda adorable.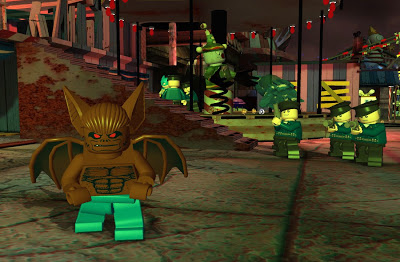 It was previously rumored but it's now confirmed that Man-Bat will be a playable character in Lego Batman being released in September. Since Man-Bat is actually Doctor Kirk Langstrom transformed, it stands to reason normal Langstrom will be playable as well.
Here's Man-Bat making the Mad Hatter very angry. Well, most likely it was Batman who made him angry but I'd like to think it was Man-Bat. Maybe he pooped in his favorite hat.
At this point it would probably be more productive to try and figure out which Batman characters AREN'T going to be in the game. The Lego series usually has over 80 which leaves a lot of room for even the lesser-knowns, though there will be multiple Batman's, Robin's and Nightwing's for sure . We'll probably wind up getting some non-Batman characters as un-lockables as well. Maybe Superman and Wonderwoman? (Crossing my fingers for Zatanna!)