Nerdy News
Playing a bit of catch up in this edition of Nerdy News. A fan favorite leaves his regular gig in favor of personal work, the Goddamn Batman wants an Oscar and the man who could make any situation sound dire passes away.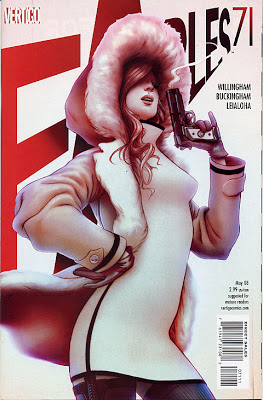 James Jean will no longer be drawing covers for Fables after issue 81. I can not tell you how sad this makes me. I heard the news just before leaving for vacation which was even worse. Jean has created every cover for almost eight years now and will be finishing with the end of an arc instead of a round number like 100.
Jean is leaving to focus primarily on his painting and other personal work. In a message to the Fables team he wrote, "This is a difficult email for me to write. Don't worry…as far as I know, I don't have any tumors or crippling neuroses, and my taxes are in order. But I feel like I'm breaking up with the prom queen on prom night, after having dated through grades 6 – 12." Fables won't be the same without him and whoever steps up next has some mighty shoes to fill. Hopefully the Fables Covers book coming out in November will contain his complete work on the series. It would be kind of lame if it didn't but who knows if they had enough notice to do so.
__________________________________________________________
The Goddamn Batman will not go softly into the night nor the beginning of next year for that matter. Warner Bros. announced this week it will be re-releasing The Dark Knight in January, just in time for the Academy Awards voting season.
There were talks long before the film was even released of an Oscar-worthy performance by Heath Ledger but now it seems Warner is going all-out to get as many of the gold statues as they can. According to the article, "Warner Bros. domestic distribution president Dan Fellman acknowledged ongoing talks with IMAX execs over the prospect of restoring the Christian Bale starrer to some giant-screen venues in January. It's uncertain if "Dark Knight" also will reappear in conventional venues at that point."
Even though the movie is no where close to being done in theaters yet and the DVD is set to be released in December it's a great way to boost it's box office take in the hopes of beating Titanic.
__________________________________________________________
In a world where movie trailers were boring and crappy, one man defied and conquered them all. His name was Don LaFontaine.
Unfortunately we'll no longer have the pleasure of hearing this man's amazing bass tones on the big screen. He passed away September 1 at the age of 68 from complications in the treatment of an ongoing illness in his lungs.
LaFontaine worked in the industry since 1962 and has voiced over 5,000 trailers in his lengthy and successful career. He was nicknamed "Thunder Throat" and "The Voice of God" and was responsible for the infamous and highly used trailer catch phrase, "In a world where…" He also worked in television and was prominently featured parodying himself in a GEICO commercial in the last few years. That was a rare on-screen appearance for LaFontaine who insisted he never cared no one knew his name or face.
Some of the most notable trailers from his past included Terminator 2: Judgement Day and Batman Returns but I remember him most as the voice in the opening credit sequence for Xena: Warrior Princess. He became so popular in the industry he actually hired a driver to take him from studio to studio to avoid finding parking. That is, until the technology was developed that enabled him to work solely out of his home. He's another master that will be tough to top or replace.