[UPDATED] Netflix Kicks off LGBTQ Pride Month by Canceling Sense8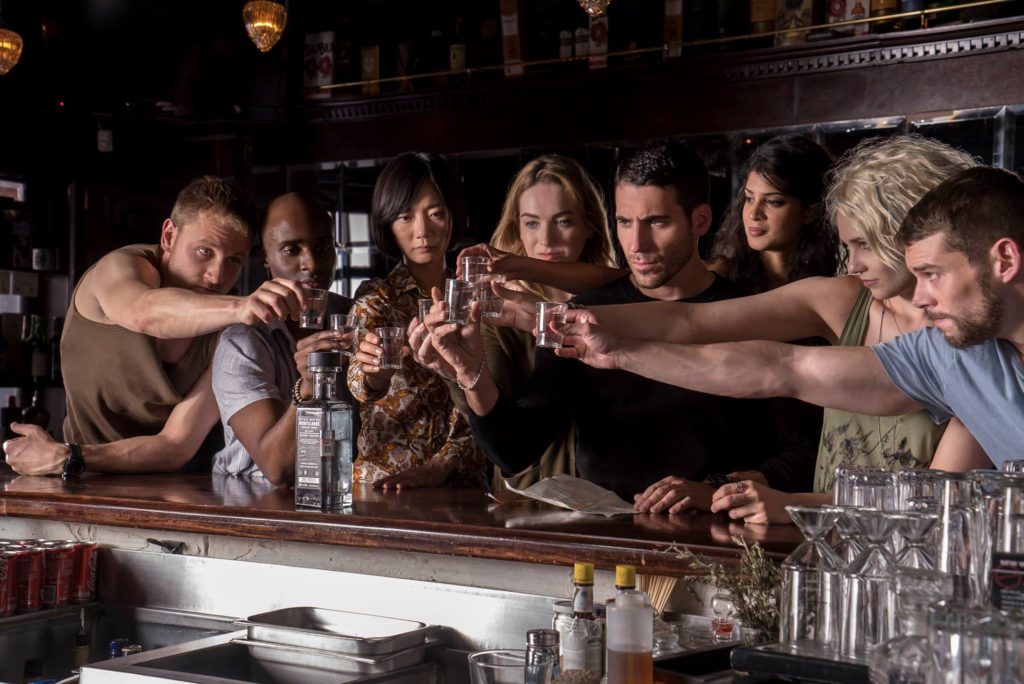 Netflix made an upsetting move this afternoon when it announced the cancelation of Lilly Wachowski, Lana Wachowski, and J. Michael Straczynski's Sense8.
The show just wrapped up Season 2 on the streaming service and starred Aml Ameen, Doona Bae, Jamie Clayton, Tina Desai, Tuppence Middleton, Toby Onwumere, Max Riemelt, Miguel Ángel Silvestre and Brian J. Smith as a cluster of "sensates" while Freema Agyeman, Terrence Mann, Naveen Andrews, and Daryl Hannah also featured. It was one of the most diverse television shows ever.
Here's their official statement from Cindy Holland, VP Netflix original content:
After 23 episodes, 16 cities and 13 countries, the story of the Sense8 cluster is coming to an end. It is everything we and the fans dreamed it would be: bold, emotional, stunning, kick ass, and outright unforgettable. Never has there been a more truly global show with an equally diverse and international cast and crew, which is only mirrored by the connected community of deeply passionate fans all around the world. We thank Lana, Lilly, Joe and Grant for their vision, and the entire cast and crew for their craftsmanship and commitment.
Insult to injury, the news of the "diverse and international cast and crew" getting fired came on the first day of LGBTQ+ Pride month. Way to go, Netflix.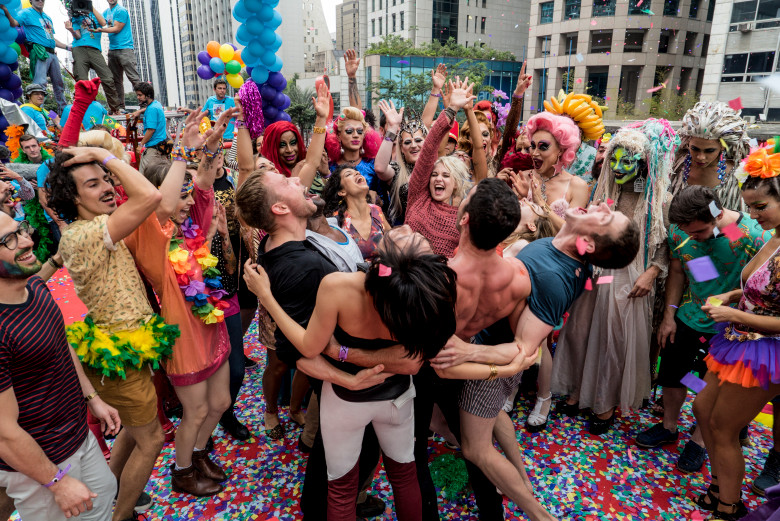 The second season actually formed an episode around the giant Pride parade in São Paulo, Brazil. The character Lito, a movie star in the show, was coming to terms with his identity after being outed by tabloids. He goes on to accept the role of Grand Marshall for the parade and all the other sensates join in for a joyful celebration. It was truly beautiful. But executive producer Grant Hill explained to IndieWire the whole thing almost never happened because of scheduling issues.
"We sent down a production person a day and a half before we were due to be filming, and then we finished here in L.A. that night, and flew overnight down there. We had eight or 10 hours on that float in the procession in which to stage all the stuff that we had — which of course we hadn't rehearsed," he said. "It was a huge sort of gamble, I guess in a way. But it turned out to be one of the most spectacular and, I think, moving scenes in the whole season."
This news comes just a week after Netflix announced it was canceling The Get Down, reportedly due to delays and budgetary reasons. No word on why Netflix decided they no longer wanted to continue with Sense8 but I hope fans will let them know how they feel. Perhaps we can get a movie to wrap up the Season 2 cliffhanger we were left on.
[UPATE: June 9] On the official Sense8 tumblr, Netflix reaffirmed that despite fan campaigns they would not be bringing the show back:
To our Sense8 family…

We've seen the petitions.
We've read the messages.
We know you want to #RenewSense8,
and we wish we could #BringBackSense8 for you.
The reason we've taken so long to get back to you is because we've thought long and hard here at Netflix to try to make it work but unfortunately we can't.
Thank you for watching and hope you'll stay close with your cluster around the world.
#SensatesForever
So, HBO, Starz, Hulu, Amazon?