Nothing can defeat the Darth Knight
You and your friends may have a fun time debating who would win in a fight,
Darth Vader or Batman
, but what would happen if they were one in the same? We'd all be doomed, of course.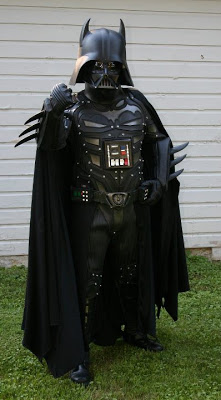 From Malmey Studios comes one of the coolest cosplay creations I've ever seen. People have adapted traditional Star Wars costumes for years now but I've never found one this unique, not to mention, well done.
Here we have a custom made Latex body suit that has dark Knight armor and a bat symbol. It also has ribs designed into it like the vader body suit and the veder chest box. We also placed 96 nuts into holes cut for them to give the armor a bolted on look. We decided to use Arkham gauntlets as they seem to be the most ruthless. I mounted the fins on the top to give it a meaner look and fabercated custom gauntlet bottoms! I got a rubies Vader Helmet in a trade which kinda started this whole thing and fastened ears to it! This part sucked and took over 6 hours. Lastly We got an urethane belt with a silver buckle and placed the vader belt boxes on it! We painted some silver on the suit to tie it all together added some gloves and boots we had here and BAM!!!!! Rise Lork Knight!!
Jeremey Adams and his fiancee Mallie Jane Little created the tremendous Batman/Darth Vader mashup which has been making the rounds the last week or so. The new CNN Geek Out blog even got in touch with them for an interview. Turns out, Adams got the idea from artist Jay Fife. "I was at Mid-Ohio Comic-Con in 2007 and ran into a local Ohio artist by the name of Jay Fife. He and his daughter thought up this awesome concept, a Bat-Vader Mashup," said Adams, "I bought a print of the Art because it was so different. I fell in love with the concept and wanted to attempt the costume. In March of 2010 We got a Vader Helmet as a trade so we built the costume around it!"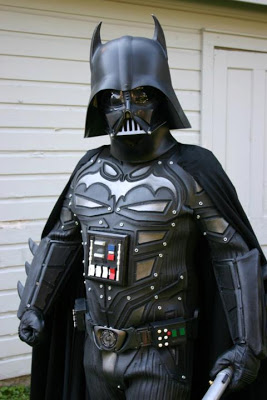 Adams said the costume took him and Little just over a month to complete since they both hold full-time jobs and that it will debut at the Mid-Ohio Comic-Con at the end of October. As to why mixing these two characters together gets such a big response, Adams had this to say, "I feel these characters have endured the test of time because anyone can relate to them on some level, there is an element of good and bad to both of them. One's a father and one is a son! There is also a darkness and mystery to both of these characters even though there is a ton of backstory on both. People love mystery. It also helps that they both from some of the biggest toy, comic and movie franchises of all time."