Our First Sly Look at Emily Blunt in Mary Poppins Returns
Entertainment Weekly got the exclusive first image reveal from Disney and Rob Marshall's Mary Poppins Returns starring Emily Blunt and Lin-Manuel Miranda.
Since the last time I checked in on this project they've added Meryl Streep as Mary's cousin Topsy, Colin Firth as banker William Weatherall Wilkins, Julie Walters as the Banks' housekeeper Ellen, and Dame Angela Lansbury as the Balloon Lady. Dick Van Dyke, who can still perform with the best of them, will have a "featured appearance" while Ben Whishaw will be playing the grown up version of Michael Banks with Emily Mortimer as Jane.
Here's our first look at Blunt's Mary Poppins…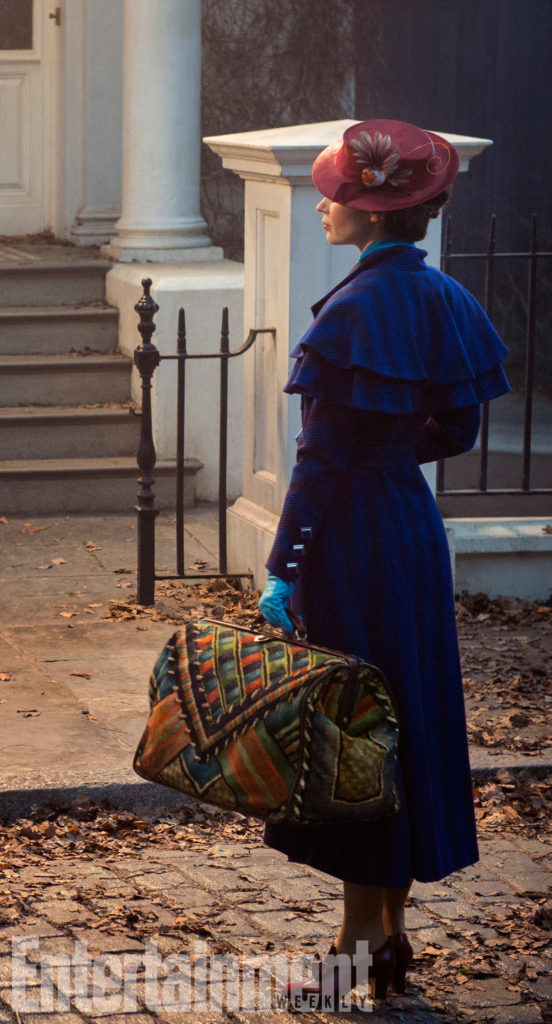 Mary Poppins (Emily Blunt) returns to the Banks home after many years and uses her magical skills to help the now grown up Michael and Jane rediscover the joy and wonder missing in their lives in MARY POPPINS RETURNS, directed by Rob Marshall.
For comparison, here's the classic bag Julie Andrews used in 1964.
Previously Disney explained of the film:
Drawing from the wealth of material in P.L. Travers' seven additional novels, the story will take place in Depression-era London (when the books were originally written) and follows a now-grown Jane and Michael Banks, who, along with Michael's three children, are visited by the enigmatic Mary Poppins following a personal loss. Through her unique magic skills, and with the aid of her friend Jack, she helps the family rediscover the joy and wonder missing in their lives.
Mary Poppins Returns hits theaters December 25, 2018.