Pin-ups, Posters and Comics, Oh My!
A few items of the visual variety for you to enjoy…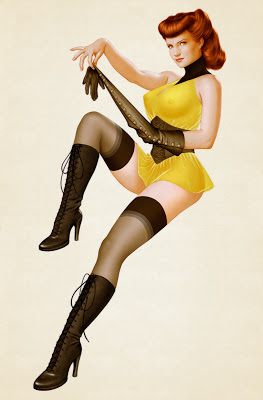 Fables cover artist (and one of my personal favorites) James Jean drew this Vargas-style pin-up of Sally Jupiter for use in Watchmen. He posted it on his blog this past weekend with the original sketches and a brief explanation. According to Jean, at 1:32 in the trailer you see his art hanging on a wall and it's supposed to play a role in that particular scene. I'm very much in love with this.
Speaking of upcoming movies I can't wait to see, brand new
Star Trek
posters have been released. Below are the wallpaper size images from the
official site
 so they don't match up exactly but when they do they form the Starfleet insignia. Rumor is the posters will be given away at the
San Diego Comic Con
this week. Too bad I won't be there to get one. Not like I need more posters anyway, I just think they came up with a really neat idea. If you're extremely dedicated and want all of them you better bring a few disguises (or friends) with you, it's going to be one section per person only. How fantastic does Zachary Quinto look as Spock?
Lastly, a bit of cuteness from Justice Society of America #17. The whole issue was warm and fuzzy, in a menacing kind of way, but they really got me with this panel. Jakeem made a costume for Cyclone's monkey because she loves The Wizard of Oz. She saw it as a nice gesture but tried to take it off afterwards because she thought it was cruel. Too bad, the monkey loves it and wouldn't let her. She ran down the hall to catch him when she literally ran into Damage who left her almost speechless by his newly rediscovered hotness. I make this face often.