Resident Eeeeeeevil
Killing zombies is a dirty job, but somebody's got to do it.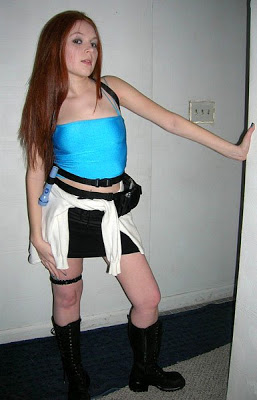 The Girls Entertainment Network is celebrating the release of Resident Evil 5 with a weeks worth of outstanding original features including retro game reviews, zombie survival guides and RE cosplay. That's where you come in. 
My contribution to the festivities is, "
So You Want to Be a Zombie Fighter?
" I've showcased some amazing RE costumes from around the internet, including my own (above) which is not so amazing compared to the rest. Regardless, I need as many comments as I can on my article! If you're not already a member of GEN take a minute to sign up and leave one. Not only does it help me possibly win a copy of RE5 but it puts you in the running to win one too! Don't wait, do it RIGHT NOW!!
Even if you don't like, play or even own a gaming system for Resident Evil, leave me a comment because you love me soooooo much! And make sure you check back throughout the week for more RE features from the amazing ladies (and gents) of GEN!