Skynet, Judgment Day, the history of things to come.
All I ever wanted from a Terminator movie was the chance to see more than 30 seconds of the war between the humans and the machines. Now, thanks to Warner Bros. it looks like I finally get my wish. Not only are we getting a fourth Terminator film, we're getting a new trilogy.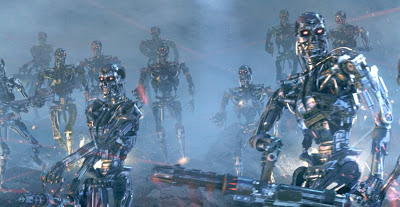 Warner Bros. Pictures, Sony Pictures Entertainment and The Halcyon Company began principle photography on
Terminator Salvation: The Future Begins
, May 5th in Albuquerque, New Mexico. The film is scheduled for release on this exact date next year. McG will direct and
Christian Bale
will star as a grown up John Connor. Newly announced casting includes Australian born
Sam Worthington
, musician
Common
(rumored to be playing John Stewart in
Justice League: Mortal
) as Barnes and
Moon Bloodgood
(rumored to be playing Maya in the new Street Fighter movie) as Blaire Williams.
Anton Yelchin
who plays Chekov in
Star Trek
will be playing the role of John's father, Kyle Reese.
According to the press release:
In the highly anticipated new installment of The Terminator film franchise, set in post-apocolyptic 2018, Christian Bale stars as John Connor, the man fated to lead the human resistance against Skynet and it's army of Terminators. But the future Connor was raised to believe in is altered in part by the appearance of Marcus Wright (Sam Worthington), a stranger whose last memory is of being on death row. Connor must decide whether Marcus has been sent from the future, or rescued from the past. As Skynet prepares it's final onslaught, Connor and Marcus both embark on an odyssey that takes them into the heart of Skynet's operations, where they uncover the terrible secret behind the possible annihilation of mankind.
I've known Christian Bale was going to be playing John for a while now but I'm surprised to hear that he has actually signed on for three films considering his current involvement with the Batman franchise. With that said, I'm shivering with anticipation of this one. It seems they are distancing themselves in a way from the previous three films, notice there's no talk of Arnold Schwarzenegger making an appearance. All I want to see is all out war with the machines and Terminator skeletons walking around blowing things up.
There is one possible downside. According to
Variety
, they are looking to make it PG-13. The Terminator trilogy is one of the highest-grossing R rated franchises ever but Halcyon producers want to widen the fan base and don't think the lowered rating with compromise the film. "The ratings have changed," said Halcyon co-founder and co-CEO Victor Kubicek, "The PG-13 has increased in intensity." I don't know if they are exactly aiming at family-friendly but if there's one thing the Terminator movies are not, it's family-friendly. Unless you count the warm and fuzzy moments between John and the T-800. Those were pretty cute.
Of course no movie franchise is complete without a video game. A new Terminator game is set to be released along with the movie next year. With the technology we've got now I'm thinking it's going to be pretty bad-ass.
Now that he's played Jack Kelly, Laurie, Batman, Alfred Borden and John Connor if we could just get Christian Bale in The Hobbit somehow, my fantasies will be complete.
digg_url = 'https://thenerdybird.com/2008/05/skynet-judgment-day-history-of-things.html';