Sweet dreams are made of this.
And you thought they smelled bad on the outside. You've seen
The Sleeping Bear
, now the geniuses over at ThinkGeek bring you the
TaunTaun Sleeping Bag
. Too bad it's only an April Fools joke. Or is it?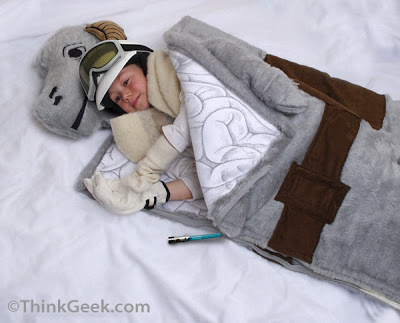 Technically it was, and a very good one at that. "This high-quality sleeping bag looks just like a Tauntaun, complete with saddle, internal intestines and glowing lightsaber zipper pull." But with something as amazing as this, geeks would not let it go.
ATTN Tauntaun Fanatics! Due to an overwhelming tsunami of requests from YOU THE PEOPLE, we have decided to TRY and bring this to life. We have no clue if the suits at Lucasfilms will grant little ThinkGeek a license, nor do we know how much it would ultimately retail for. But if you are interested in ever owning one of these, click the link below and we'll try!
WHAT ARE YOU WAITING FOR!?! DO IT NOW! 
Check out the pretend, hopefully-soon-to-be-real product features:
Classic Star Wars sleeping bag simulates the warmth of a Tauntaun carcass
Built-in embroidered Tauntaun head pillow
Glowing Lightsaber zipper pull
Great for playing pretend "Save Luke from the Wampa" games
Teach your children about the best Star Wars movie ever
Fully Licensed Lucasfilm™ Collectable
Fits children (and small adults)
100% Polyester construction, Machine washable
Exterior Dimensions – 32″ x 60″
I could probably fit the "small adults" size but I hope they make it in a larger size also so the big kids can enjoy it too.