Because I Need People to Scream With, Let's Talk the Legends of Tomorrow Finale
Spoilers to follow for the Season 1 finale of The CW's Legends of Tomorrow.
Holy cow. They brought in Hourman.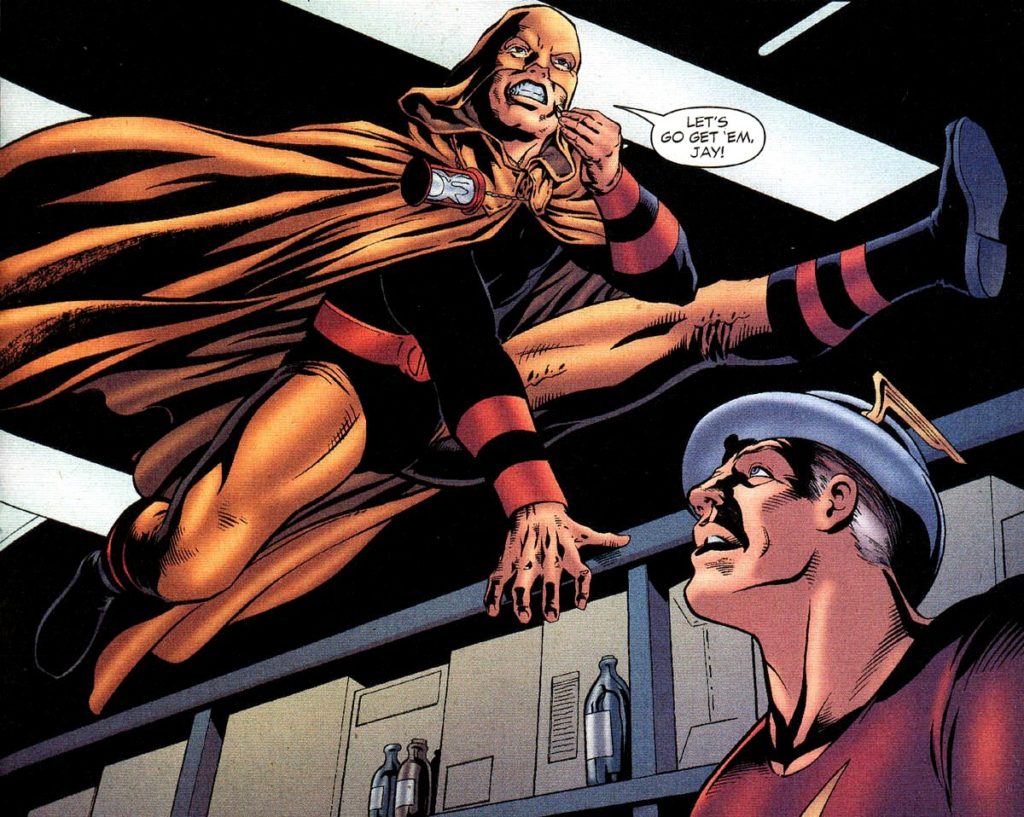 I mentioned in a piece I wrote for HitFix yesterday that with Supergirl moving to The CW next season and the creators planning a four-show crossover, we're basically getting a "Justice League" before Zack Snyder's movie but looks like we're set to get the Justice Society of America too (yes, again).
Legends of Tomorrow was just wrapping up their first big adventure and heading off to the next (without Hawkgirl and Hawkman) when another DC Comics character crashed (literally) into the fray.
His name is Rex Tyler and…
Back in 2013 I wrote about The CW developing an Hourman series. Even though I actually really like the character, I was annoyed at the time because the current landscape was seeing several male DC heroes getting TV shows (Flash, Constantine, Gotham). I still think this character wouldn't have worked in a solo outing but I do love his inclusion on Legends of Tomorrow. I'll steal my own words to save time describing the character:
He was created by Ken Fitch and Bernard Baily and has had a few incarnations along the way – Rex Tyler, Rick Tyler, and Matthew Tyler. Most of my experience with the character comes from Geoff Johns' Justice Society of America version (and beyond), the man who has a successful marriage to superhero Jesse Chambers, aka Liberty Bell, aka Jesse Quick. His powers grant him the ability to see one hour into the future (but with random visions) and also super strength, speed, etc. (also for a limit of one hour) by using a drug called Miraclo. Also, he can only use that drug once a day because it's not so great on the body.
Patrick J. Adams is the actor who'll be playing him come Season 2 and you can bet there will eventually be some swapping of continuity to get Rex to meet up with The Flash's Jesse (who may also be developing powers next season).
"With his final words in the finale, he planted a pretty deep flag about where we're headed in season two, which is not just introducing Hourman but introducing his teammates in the Justice Society of America," executive producer Marc Guggenheim told The Hollywood Reporter. "For comic book fans, everyone knows the Justice Society is really the precursor to the Justice League, so it's a pretty big move in our DC universe here on TV." Guggenheim also teased the villain for next season:
"The season two big bad is actually not going to be the [alien race of] Thanagarians," Guggenheim says. "It's going to be something else entirely. All I'll really say about the nemesis in season two is Vandal Savage looks like a walk in the park compared to what the Legends will be facing. This will be a much, much bigger threat. I'm going to leave it at that because when we do reveal it, it's going to be pretty big. People will be asking, 'Vandal who?' once they get the full picture of what our team is up against. It's going to be way bigger than what you can even imagine, I can guarantee it."
I've enjoyed Legends of Tomorrow but it's not my favorite superhero show. While the characters are strong they've got a big issue with their time travel logic and rules. I mean, time travel stories are inherently problematic but if a creator picks their rules and sticks with them, it's usually acceptable. Legends of Tomorrow unfortunately is all over the place in that regard and handwaving is more the the rule than the exception. Regardless, I think the creators will be able to learn from their missteps and put together a solid second season.
Now the question is, which other DC characters will come along for the ride? Jack Knight Starman would be near the top of my list though Mr. Terrific would be easy and make a lot of sense since Curtis Holt has already been introduced on Arrow. Also crossing my fingers for Stargirl and Power Girl. Sound off, let me know what you thought of the episode and the potential going forward!