Preview David Tennant & Catherine Tate's Doctor Who Audio Adventure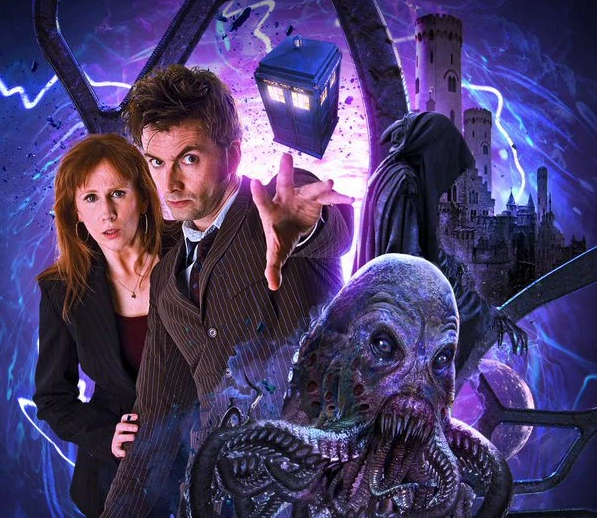 Missing the 10th Doctor and Donna? Never fear, David Tennant and Catherine Tate are here for more Doctor Who adventures thanks to Big Finish audio plays!
Big Finish Productions have been creating Doctor Who audio dramas with Tom Baker, Peter Davison, Colin Baker, Sylvester McCoy, Paul McGann, John Hurt and Tennant for many years. Previously they hadn't been allowed to reference anything from the modern era (with a few exceptions like the 50th anniversary) but that changed over the summer.
Big Finish details the adventures the Doctor and Donna are set to have in this series:
The series opens with Doctor Who – The Tenth Doctor Adventures: Technophobia by Matt Fitton, which is set in a London slightly in the future, where mankind is gradually losing its ability to use everyday technology. Could there be an evil force at work?

In Doctor Who – The Tenth Doctor Adventures: Time Reaver by Jenny T Colgan the Doctor and Donna arrive on Calibris – 'An entirely mechanical planet. Catch, hitch, fuel, fix, buy, pretty much any kind of transportation in existence.' It's also a world full of scoundrels, where a deadly black market has opened up in a device known only as the Time Reaver.

Finally, in Doctor Who – The Tenth Doctor Adventures: Death and the Queen by James Goss, Donna is swept along in a fairytale romance and meets the man of her dreams in the beautiful land of Goritania. What can possibly go wrong? And why has the Doctor never heard of Goritania?
And here's our very first preview!
Doctor Who – The Tenth Doctor Adventures are set to be released in May 2016 and if you're so inclined you can pre-order them now on the Big Finish website.
John Hurt is also being featured in a larger series focusing on The War Doctor for Big Finish while Alex Kingston's River Song will be joining Paul McGann's 8th Doctor in another called The Diary of River Song.
Doctor/Donna may be my favorite Doctor/companion pairing ever so Tennant and Tate getting back together is really exciting for me. What about you? Have you ever listened to any of Big Finish's audio plays?
(via Tor.com)