Tricky Thursday
Tomorrow's episode of Smallville, appropriately entitled "Sex," I mean…"Hex," is almost upon us. Please, let's all take a moment to thank everyone involved for Serinda Swan's casting.
I don't even care they're only using Zatanna for a Freaky Friday switch between Chloe and Lois, just that they've taken a page directly out of the comics for her look. There's a lot of great potential with the character so I hope they leave it open for her to return.
And now for some wonderful hi-res stills of Z.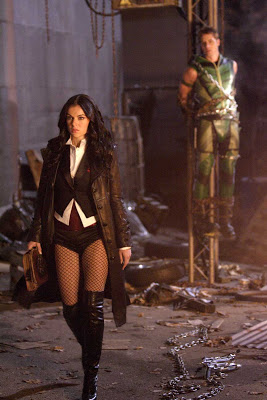 There's a little something for everyone in this promo shot – fishnets, thigh-high boots and a chained up Oliver Queen.
Mistress indeed. Don't forget to set your DVR's, this episode will probably warrant repeat viewings.