Vampire Valentine's
Flowers: $20
Chocolate: $35
Romantic candle-lit dinner for two: $100
Actually, a price has been set for that particular enjoyment, naughty as it may be. For $195 dollars you can make your (read: my) dreams come true. Valentine's Day with Spike. This is not a joke.
The South Orange Performing Arts Center (SOPAC) in New Jersey is hosting,
James Marsters: Your Funny Valentine
, on February 15. It's all James, all day. Mind you, the $195 is only for regular admission, for $225 you're a VIP (closer seating). Guess what? All 150 available tickets are sold out. Besides spending time with this handsome man, here's what the lucky few can expect:
Exclusive theatrical performance 
Signed souvenir from Dragonball 
Personalised autograph 
Q&A with James 
Photo session (with professional event photographer) 
Acoustic concert 
Screenings 
Free raffle for exclusive goods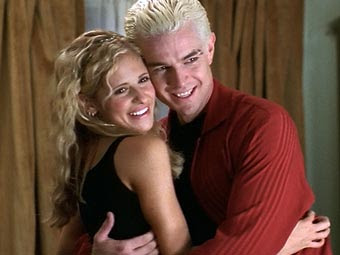 This could be you!
Crazy? Yes. Completely original and amazing? Absolutely. He really needs to give his manager a raise for coming up with this one. Forgetting the extra VIP price, with just regular admission he's making around $30,000 for a days work. And when I say work I mean, having women scream your name and paw at you all day.
I actually heard about the event a while ago but it was too rich for my blood. However, I just found out a limited number of seats have been released for the evening concert portion of the event and tickets are only $20! I may have to go. If for nothing else, just so I can tell people I spent Valentine's Day with Spike.
Now please, let me leave you with one of my favorite quotes from Buffy, spoken by Spike of course: "Real love isn't brains, children. It's blood. It's blood screaming inside you to work its will. I may be love's bitch, but at least I'm man enough to admit it."