Want a Wampa?
Ever wonder what it would be like to hunt down your own Wampa, gut it, skin it and dry it out so you can put it on your floor? Yeah? That's weird. But good news, it's already been done for you! Now you can own your very own Wampa wug, I mean Wampa rug.
Measuring in at 62 inches long and 30 inches wide (no where near real Wampa size) the rug is made from "high-quality synthetic fur" with vinyl claws. Upon closer inspection, the creatures horns seems to be made out of corduroy.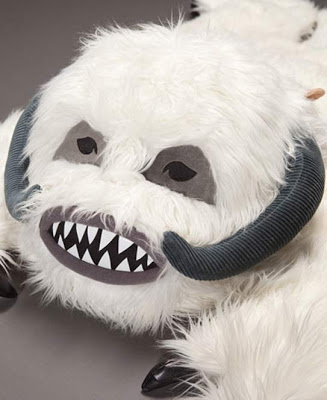 It also includes a non-slip backing and as you can see, the head can serve as a pillow. What the rug does not include, and vitally important to point out, is any type of female. Though if you love
Star Wars
this much, it just might attract the kind of gal you want to spend the rest of your life with lying in front of a fireplace.
Personally, I'm curious to know if the
Abominable Snowman
is an early ancestor of the Wampas. I think this requires further research…