X-Men Lite?
What do you get when you put Dakota Fanning in a mini-skirt and knee-high boots? Besides my nightmares, you get the upcoming film from Summit Entertainment. Push.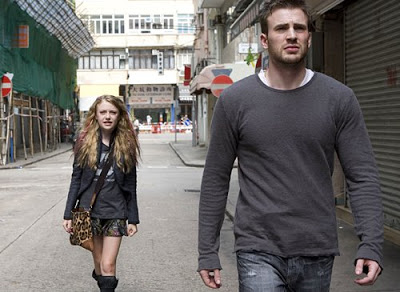 Push, not to be mistaken for La Push (considering the trailer aired before Twilight and both are distributed by Summit), is a sci-fi thriller focusing on a group of people with special abilities running from a secret government agency who want to use them as super-soldiers. They must work together to shut down "The Division" for good.
Sounds like it's ripped from the pages of an X-Men arc doesn't it? Of course there's Heroes parallels as well but we all know which one came first. Instead of fancy terms like telekenisis, people with such powers are called Movers. Pushers can get inside your head, Watchers can see the future, Bleeders exhibit a Black Canary-like cry, Stitchers heal people etc.
The film stars Chris Evans, who's no stranger to playing a superhero, Camilla Belle, Dakota Fanning and Djimon Hounsou. Their impressive powers come as a result of Nazi experiments during World War II though most of the main characters have inherited their powers genetically from their parents.
Not to lose a chance at marketing, Wildstorm has produced a comic book prequel to the film written by Marc Bernardin and Adam Freeman. The second issue apparently hit stores today but I haven't seen it. You can view preview pages over at Superhero Hype. Push, the film, is in theaters February 6, 2009.