BREAKING NEWS: Artgerm Draws Hot Women!
Some days I am simply humbled by the talent of others. Today is one of those days.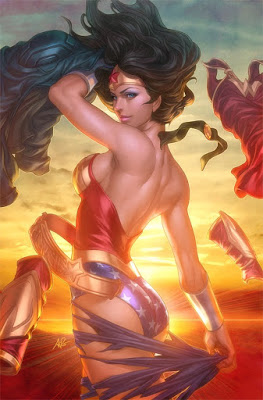 Stanley Lau, also known as Artgerm on deviantart, has been illustrating covers for Batgirl and Birds of Prey recently. This Wonder Woman piece I found the other day is striking on so many levels. The colors are just amazing and the pose and act are phenomenal. "This is something I did for fun, cos personally I still prefer the old costume of wonder woman instead of the latest design," said Lau. Me too. She needs to do this for real soon.
Another recent illustration that caught my eye was his cover for
Birds of Prey
#10. I had originally thought this was Oracle until I read last week's issue #7 and found out it's another redhead. Either way, I'm looking at possible new cosplay because this is just gorgeous.
Speaking of cosplay, one I'll never do is Power Girl. Love her but see, thing is, I'm not that well-endowed. Regardless, I love it when artists have fun with her chest size and don't make her oddly proportioned. Amanda Conner is one such artist and it turns out
Lau is too
. What better explanation for the cut-out than a ventilation apparatus?
Catwoman is taking quite the leap of faith in
this one
.
And just to show this wasn't all about hot ladies, I give you Lau's variant cover for
Green Lantern
#56
. How adorable does Saint Walker look here acting like Larfleeze? Pretty damn adorable if you ask me.