"Girls Can Sell Toys," Says Krysten Ritter, Realizing Jessica Jones Doesn't Have an Action Figure
The wonderful Stephen Colbert recently lamented Marvel's man problem on the Late Show. He follows up with Jessica Jones' Krysten Ritter in a new segment as they realize her character may not have any toys.
You may recall me writing about the issue that started lots new "WTF?" comments from fans. Iron Man 3's villain was meant to be a woman before Marvel had Shane Black change it to a man so they could sell toys. AND THEN THEY DIDN'T EVEN SELL ACTION FIGURES OF THE VILLAIN.
Responding to that ridiculous news, Colbert said "The Marvel Cinematic Universe is kind of a sausage fest" but considering he had a Marvel Netflix star on a few days later, he brought it up again. First they talk a bit about award recognition and the serious issues Jessica deals with on the show.
Then at 1:07 Colbert brings up the criticism of Marvel. When he tells her the Iron Man 3 story she replies, "Really?!" And then adds, "Girls can sell toys!"
Colbert agrees then asks, "Is there a Jessica Jones toy?" Ritter says, "I don't know if there is yet, but there should be and I bet it would sell huge, and I'm gonna make some phone calls after this." Yes, a Jessica Jones action figure would sell amazingly well. Too bad Marvel hasn't made one.
Right now all I know is Diamond Select Toys previewed a set of Marvel Minimates with Jessica at Toy Fair 2016. PreviewsWorld says they should be out in June.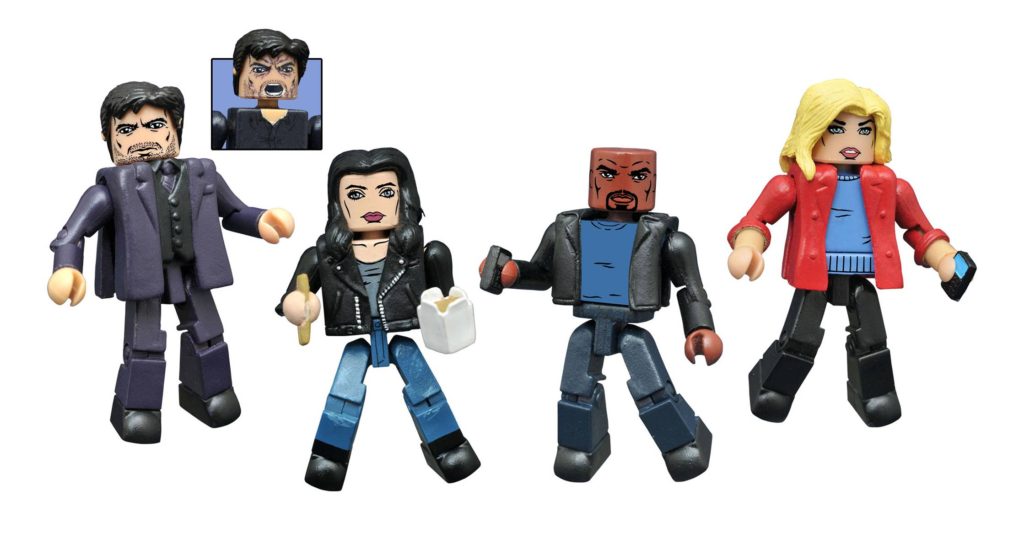 Return to the world of private investigator Jessica Jones in this Minimates mini-figure box set based on the hit Netflix TV series! Jessica Jones, Luke Cage, Trish Walker and Kilgrave each stand 2 inches tall and feature 14 points of articulation. Plus, each character comes with removable jackets and alternate parts, including arms and a screaming Kilgrave head, as well as accessories like smartphones, a laptop and Chinese takeout! Includes four display stands. Packaged in a full-color window box.
[Editor's Note: affiliate links] Marvel's Daredevil/Matt already has three different Funko Pop figures but also does not have his own action figure. If you want one of Jessica Jones, you're out of luck. Unless you want to buy a custom job on Ebay for $125.
See what you're missing out on, Marvel?
[UPDATE: Looks like Jessica Funko are at least being worked on.]
@blu3berrykisses you will. And kilgrave too. He's dreamy.

— Funko (@OriginalFunko) March 25, 2016
(via Comic Book Resources)