The Malfoy Men Debut Plus Behind-the-Scenes Videos From Harry Potter and the Cursed Child
The Malfoys are looking quite Malfoy in their Harry Potter and the Cursed Child costumed debut. Take a look at two new videos the production has released as well to give fans a behind-the-scenes look.
Jamie Parker as Harry, Poppy Miller as Ginny, and Sam Clemmett as Albus Severus were revealed first this week followed by Cherrelle Skeete as Rose Granger-Weasley, Paul Thornley as Ron, and Noma Dumezweni as Hermione.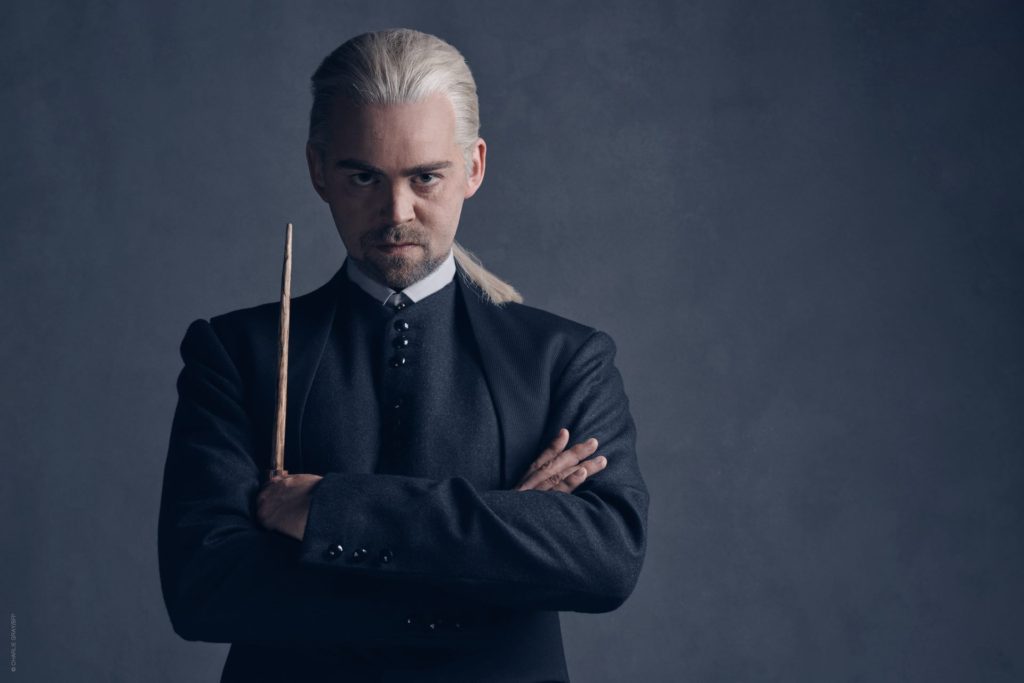 Alex Price debuts as our new Draco Malfoy and Anthony Boyle as his son, Scorpius. Oddly enough, it doesn't appear that Draco's wife, Astoria Greengrass, has been cast.
Price (who played Francesco in the Doctor Who episode "The Vampires of Venice") told Pottermore, "The world outside has been brilliantly marshalled and been kept away from us by our producers. It's only slowly starting to rear its head now and it's intimidating, a little scary, but also very exciting because Jack [Thorne] is such a brilliant writer and he's taken the story into a great place 19 years later, particularly for Draco.'
Scorpius Malfoy (Anthony Boyle) from the new play Harry Potter And The Cursed Child. J.K. Rowling: "I've got a feeling Scorpius is going to do nothing to turn girls off the Malfoy men…"
Boyle said of his new look, "It was such a game changer. As soon as I saw it, it was like, 'Okay, I'm playing Scorpius Malfoy – this is real now.' That was such a big moment…"He's wearing the official Hogwarts uniform before you go and get sorted into your house. He's a Malfoy so his clothes should be really expensive but quite constraining to make him feel a bit awkward."
Draco (Alex Price) and Scorpius Malfoy (Anthony Boyle) from the new play Harry Potter And The Cursed Child. J.K. Rowling: "I love Draco and Scorpius – they actually look related!"
Funny she says that because oddly enough the first thought I had looking at Scorpius was that he could be related to Albus.
They've also released two behind-the-scenes videos. One for the cast and one for the overall production.
https://www.youtube.com/watch?v=_MNpCRNabzU
Harry Potter and the Cursed Child officially opens at the Palace Theatre London in July 2016 but previews start next week.