Mark Gatiss Argued Against Diversity in the Casting of the Latest Doctor Who Episode
The BBC and Doctor Who showrunner Steven Moffat have been taking steps toward better representation on screen as of late so it's weird one of their writers would have spoken out against a particular casting.
This weekend's episode, titled "Empress of Mars," featured Bayo Gbadamosi as Vincey, one of several Victorian soldiers stationed on Mars after discovering a ship belonging to the Ice Warriors on Earth. I actually thought it was nice to see some diversity in the episode which, again, took place on Mars. But not everyone agreed, apparently.
The Telegraph reports on episode writer and Sherlock co-creator speaking to students at Oxford University this past weekend:
The writer of Doctor Who has revealed how he protested against the "colour blind" casting of a black actor as a Victorian soldier in the BBC show.

Mark Gatiss said he was uneasy about a "brilliant young black actor" being cast as one of the soldiers, because "there weren't any black soldiers in Victoria's army".

He put the decision down to the BBC's drive to become "more representational and make everything less homogeneously white".

Gatiss described the "very difficult" email he sent to a colleague explaining his feelings on the matter. It was only after he discovered records showing that there was in fact a single black soldier in Victoria's army, that he accepted the decision.
Mark Gatiss: literally working against diversity on a sci-fi show where Victorian soldiers wind up on Mars with aliens.
It's especially odd considering last year Moffat took a specific stance saying the show could do better in its casting (Pearl Mackie's Bill was certainly a boon). "I had this baffling idea that if we just threw open each part to everybody, it would all work out in the end. I put my faith, inexplicably, in the free market," he said. "It doesn"t work. You can only cast for talent – you've got to cast the best person, every single time – but you"ve got to gauge where you"re looking for the talent."
Later that year he added, "It's not something we're looking for a pat on the back for, to be honest. People watching television, particularly children, should see people like them up there. That's just a fact. That's what should happen." And indeed, his casting director Andy Pryor has been helping with this.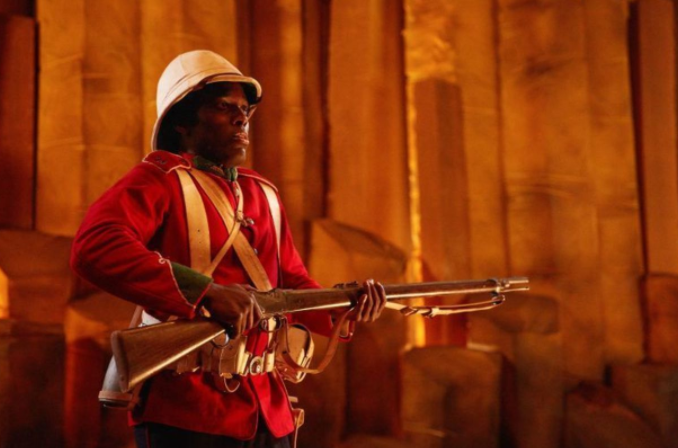 So it's extra strange Gatiss admitted he wrote to colleagues about Gbadamosi's casting saying, "This is very difficult email to send, but I don't think we can do this…these are soldiers from the South African war, they've just been fighting the Zulus. There weren't any black soldiers in Victoria's army." He then told the audience he did some research and found "the story of Jimmy Durham, a Sudanese boy who was rescued from the River Nile in 1886 and brought up by soldiers of The Durham Light Infantry regiment." So then it was OK.
"I thought that was a very interesting dilemma, in terms of there are shows where you can be immediately more diverse and so you should be, and also times when it's slightly more problematic," Gatiss also said. Which is interesting because GLAAD has pointed out in the past, and I agree, that sci-fi and fantasy projects have a huge opportunity to showcase diverse talent. Moffat himself said this last year.
It's a show that has no excuse. Sometimes the nature of a particular show – historical dramas, for instance – makes diversity more of a challenge, but Doctor Who has absolutely nowhere to hide on this. Young people watching have to know that they've a place in the future. That really matters. You have to care profoundly what children's shows in particular say about where you're going to be. And we've kind of got to tell a lie: we'll go back into history and there will be black people where, historically, there wouldn't have been, and we won't dwell on that. We'll say, 'To hell with it, this is the imaginary, better version of the world. By believing in it, we'll summon it forth.
Of course it's also important to note just how much of the history that's been written has completely erased the existence and contributions of many women and POCs, as Gatiss himself found out doing just a bit of research.
In other Doctor Who news, past showrunner Russell T. Davies admitted recently that he knows who the BBC has cast as the next Doctor but of course is keeping it to himself. That individual will take over for Peter Capaldi after he departs the series.
A few topical tweets on this have been making the rounds recently from Gene Demby:
"They shouldn't make The Doctor a woman or POC to make some political point!"

Whiteness is not neutral. Maleness is not neutral.

— Gene Demby (@GeeDee215) June 11, 2017
Thirteen white dudes in a row playing a character meant to regenerate with a totally new identity every few years…is a political stance.

— Gene Demby (@GeeDee215) June 11, 2017