Nerdy News
Happy Memorial Day everyone, it's time for some
Nerdy News
!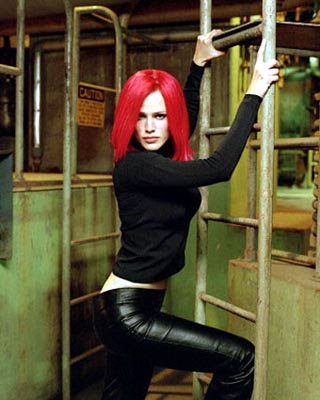 Hang onto your wigs. Alias is making a comeback on ABC. This according to TV gossip columnist Kristin from E! She says a "reliable source" at the network told her they are looking to reboot the J.J. Abrams created series which ended it's run in 2006. To which I say, "hell no!" but also, "Abrams is already doing another spy show for NBC this year (Undercovers) so get some new ideas."
The source told her ABC is trying to hold onto their
Lost
audience by re-envisioning the spy drama with it's basic elements, "But the series would most likely not include any sort of complex mythological throughline such as the Rambaldi prophecy (a storyline that lost some of the fans)." The source did not say whether or not Abrams would actually be involved.
_________________________________________________________
By the time
The Hobbit
actually hits theaters, someone will be able to write a jaunty tale of the journey it took for it to get there and make a movie out of that. Complete with ballads that take days to listen to. The film's latest misstep? Guillermo Del Toro has stepped down as director.
It was announced on
TheOneRing.net
yesterday that the Mexican director would still be co-writing the screenplays with
The Lord of the Ring's
Peter Jackson, Philippa Boyens and Fran Walsh. "In light of ongoing delays in the setting of a start date for filming
The Hobbit
, I am faced with the hardest decision of my life", said Guillermo. "After nearly two years of living, breathing and designing a world as rich as Tolkien's Middle Earth, I must, with great regret, take leave from helming these wonderful pictures."
Jackson said they are sad to see Del Toro go but have been kept in the loop the entire time. "The bottom line is that Guillermo just didn't feel he could commit six years to living in New Zealand, exclusively making these films, when his original commitment was for three years."
No new director has been lined up but it already seems like Jackson has said "Not it!" Peter Jackson's manager Ken Kamins told
Dealine New York
, "Peter has and has had obligations and commitments to other films that would make it impossible for him to direct
The Hobbit
at this time, even if it was offered, which it hasn't been."
The film, in two parts, is still scheduled to be released December of 2012 and 2013.
_________________________________________________________
Who knew tin was worth so much?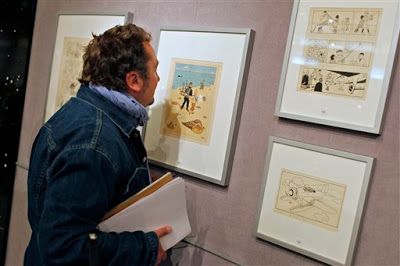 Over 200 items relating to the young comic book adventurer
Tintin
were sold off at the Drouot-Montaigne auction house
in Paris Saturday
. In total, the lot went for 1.3 million dollars.
The most expensive items were two inked and water-painted original panels from 1938's "King Ottokar's Sceptre." They sold as a pair for $299,620. Second highest was a bronze statue, showing Tintin with dog Snowy at his side, for $153,650.
No word on who the buyers were but I wouldn't be surprised if Steven Spielberg was one of them. Not only is he directing The Adventures of Tintin: Secret of the Unicorn, he's also a huge fan of the comic books.