See me at San Diego Comic-Con!
It's that time of year again! San Diego Comic-Con begins this week in California and I'm making the trek out for a third year to witness the madness. I'm doing three new costumes this year and will be on two panels! Read on to see where you can find me at the show…
My first panel of the week is on Thursday:
10:45-11:45 Oh, You Sexy Geek!— Does displaying the sexiness of fangirls benefit or demean them? When geek girls show off, are they liberating themselves or pandering to men? Do some "fake fangirls" blend sex appeal with nerdiness just to appeal to the growing geek/nerd market, or is that question itself unfair? And what's up with all the Slave Leias? Action flick chick Katrina Hill (ActionFlickChick.com) asks Bonnie Burton (Grrl.com), Adrianne Curry (America's Next Top Model), Clare Grant (Team Unicorn, "G33k & G4m3r Girls"), Kiala Kazebee (Nerdist.com), Clare Kramer (Buffy the Vampire Slayer), Nerdy Bird – Jill Pantozzi ("Has Boobs, Reads Comics"), Jennifer K. Stuller (Ink-Stained Amazons, GeekGirlCon) and Chris Gore (G4TV's Attack of the Show!) to discuss whether fans can be sexy and geeky at the same time — and if they should! Room 6A
The second will be held Saturday afternoon:
1:00-2:00 Comics Arts Conference Session #11: Psychology of the Dark Knight: How Trauma Formed the Batman and Why He's Got a Thing for "Bad Girls"— How realistic is it that a young Bruce Wayne would vow to spend the rest of his life avenging his parents' murders and "warring on all criminals"? How did these seminal events shape the man Wayne becomes? And why is he attracted to "bad girls"? For answers to these and other questions, psychologists Travis Langley (Henderson State University) and Robin Rosenberg (Psychology of Superheroes) ask Batman writer Grant Morrison, one-time Catwoman Lee Meriwether (Batman: The Movie), journalist Jill Pantozzi (Newsarama), and executive producer Michael Uslan (The Dark Knight Rises). Room 26AB
I'm thrilled to be on these panels and am looking forward to the discussions that will happen at both. And yes, I'm furiously excited and humbled to be able to sit next to the folks on the Batman panel and talk about my favorite Dark Knight. Someone stop me if I go off into a fantasy…
So, I did mention costumes, didn't I? If you read my recent Hey, That's My Cape! at Newsarama, I spilled the beans about one of them but the other two have been kept a secret until now. The first two are being done Thursday and Friday, not sure which for either (depends on an interview I may be conducting one of the days). They are…
CYCLONE (Maxine Hunkel) from the Justice Society of America! And the costume wouldn't be complete without…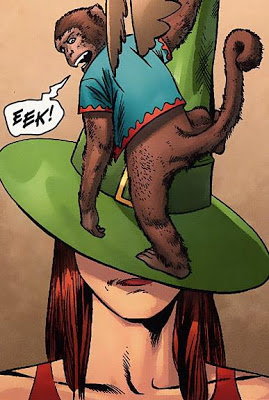 FRANKIE!! I have a great affection for Cyclone and I just couldn't resist another animal prop.
The second costume is not from a comic book but from a television show/novel. I'll be cosplaying DAENERYS TARGARYEN from Game of Thrones. I know there's probably going to be several ladies costuming the same character so I decided to go with something more to my…tastes. I'll be doing her costume from one, very memorable scene. And now, it's not that one from the finale. It's this one…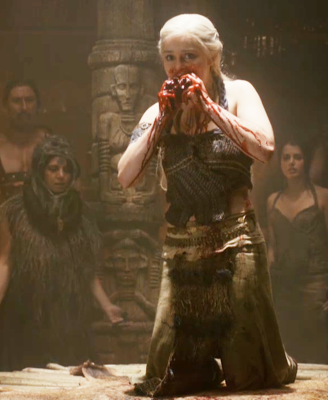 Hey, I'm not doing my Red Lantern this year, I needed to get blood in somehow. :)
And finally, the one I announced in the Newsarama column but that not everyone knows about yet is…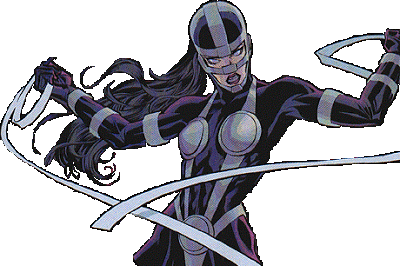 LASHINA from the Female Furies! Yes, I'm actually attempting to pull of that insane cage mask of hers along with the rest of that wacky Kirby costume. And not only that, I've also got Darkseid and a plethora of other Furies to walk around with me!!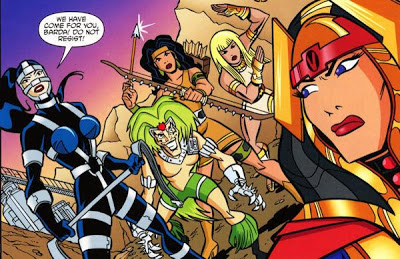 Besides Darkseid and Lashina, the group I've organized will have Mad Harriet, Big Barda, Gilotina, Knockout, Artemiz, Bloody Mary and Granny Goodness!! And you thought my Classy Lantern group was big. I cannot even describe to you all how amazing this group is going to be. The girls (plus our epic Darkseid!) have been working ridiculously hard for months to put these costumes together and I think people are going to get their socks knocked off when we walk into the convention center on Saturday. And yes, the Batman panel does fall on the same day I'm doing this costume so, that should be interesting. :) Other than the panel and walking the floor we'll definitely be making a stop off at the DC booth for pictures. I'll be tweeting when we are heading there if anyone wants to see it all in person.
And of course keep checking my tweets all week and weekend for the latest happenings (and celebrity sightings!) as I probably won't have time to update here. I'll also be at the Geek Girls Network party Friday night if you were lucky enough to snatch up one of the tickets. As always, if you see me around feel free to come say hello. And shouting out "Nerdy Bird" is perfectly acceptable to get my attention (I tend to fly by in my scooter). See you soon folks!!