Showtime's Twin Peaks Announces Redwood-Sized Cast of 217
Executive producers David Lynch and Mark Frost have confirmed 217 actors for Showtime's Twin Peaks revival. And you will not believe who's involved.
Among the names listed? Trent Reznor.
YES, REALLY. I'm dying inside and out. This is too good to be true.
Ok, ok that one was personal for me. There's more. Monica Bellucci! Jim Belushi! Michael Cera! Laura Dern confirmed! David Duchovny! Ernie Hudson! Ashley Judd! Robert Knepper! Jennifer Jason Leigh! Matthew Lillard! Tim Roth! Amanda Seyfried! Tom Sizemore! Eddie Vedder!!! Naomi Watts!
Between these big names and the fact that Reznor's wife, musician Mariqueen, is also listed as having a role, I'm thinking we'll have some scene set in Hollywood (dream or otherwise). This is just too many people to be living in or visiting Twin Peaks, right?
We've had just one teaser so far for the show and already knew previous Twin Peaks cast members would be returning like Kyle McLachlan (Special Agent Dale Cooper),  Sherilyn Fenn (Audrey), Mädchen Amick (Shelly), Sheryl Lee (Laura/Maddy), Dana Ashbrook (Bobby), Miguel Ferrer (Agent Rosenfield), Grace Zabriskie (Sarah), Peggy Lipton (Norma), Ray Wise (Leland), Wendy Robie (Nadine), and Russ Tamblyn (Lawrence). But here is the full list: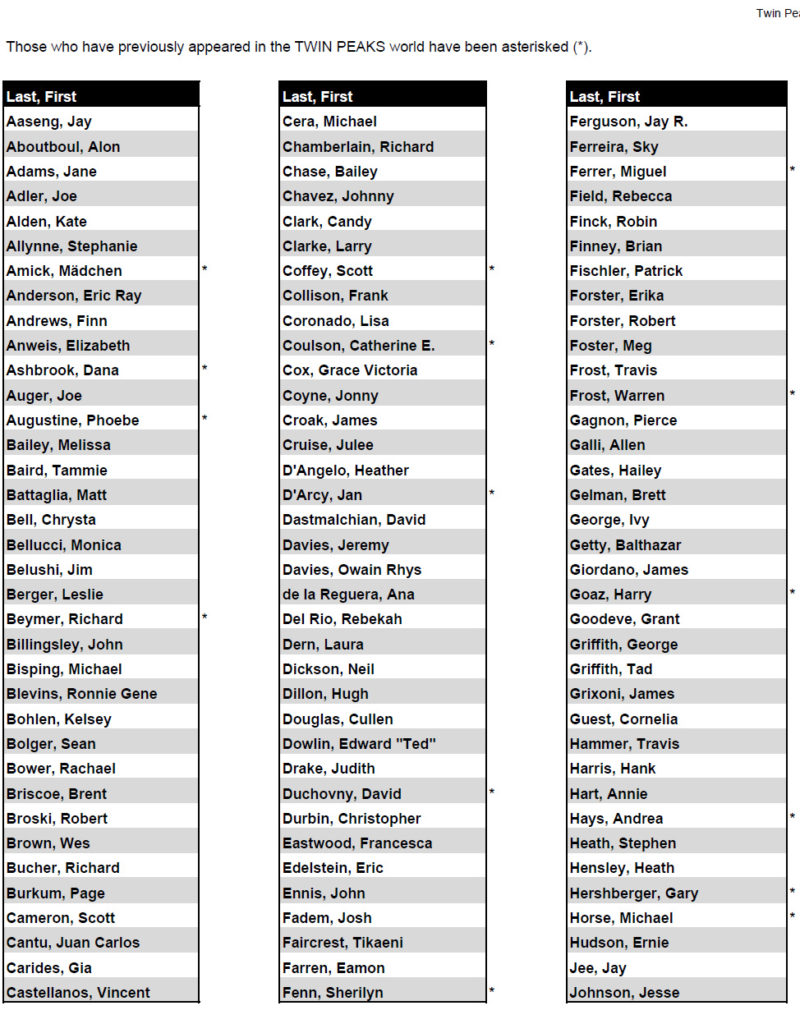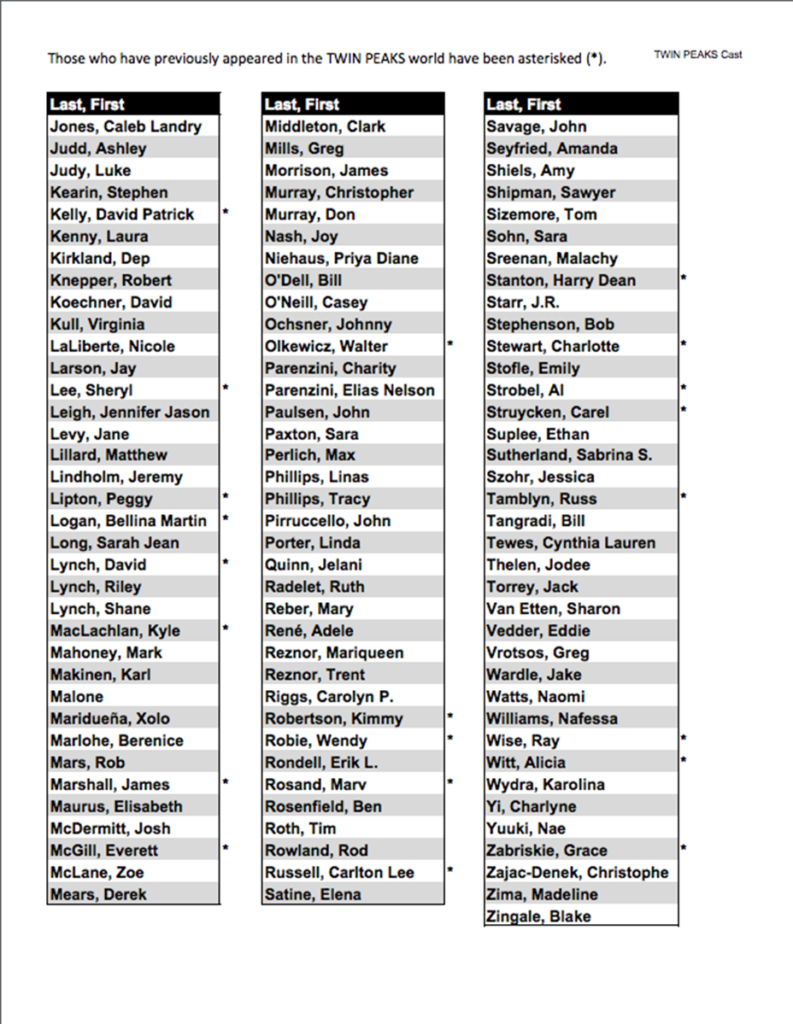 These sheets also make note of who has been in Twin Peaks before and fans will notice some big names are missing. Sadly, Lara Flynn Boyle (Donna), Joan Chen (Jocelyn), Piper Laurie (Catherine), and Heather Graham (Annie) will not be back. Michael Ontkean, who played Sheriff Harry S. Truman has apparently been recast and will now be played by Robert Forster. Forster is a great actor but that kinda stinks.
Besides the notable exclusions mentioned there is of course one name not on this list for another reason. David Bowie, who played Phillip Jeffries in the Twin Peaks film Fire Walk With Me, has since passed away. No word if Lynch had any intention of bringing his character back. However, Catherine E. Coulson (a.k.a. the Log Lady) also recently passed away. and while I previously thought she hadn't had time to work on the revival, her name is listed. But perhaps Lynch found a way to honor her legacy and work her in somehow.
All of this said, nothing is set in stone. Lynch has been trying to keep work on the new Twin Peaks secret and something tells me he'll have a few big surprises for us along the way.
(via TV Line)