CBS All Access' Star Trek: Discovery Has Boldly Arrived With Its First Trailer
CBS held their upfront presentation today and released the very first image and trailer for the long-awaited All Access series Star Trek: Discovery.
[UPDATE: The YouTube embed if the other can't be viewed.]
The first image (below) struck many as very Star Wars-looking and it's no doubt this series will be different from Trek television shows of the past. Natalie Abrams, who was at the event, tweeted "Star Trek: Discovery takes place 10 years prior to Kirk, Spock and the Enterprise." She also added that it's been expanded to 15 episodes. We previously had a teaser and a production video. Today's presentation also revealed there will be an after-show titled Talking Trek. I volunteer to host.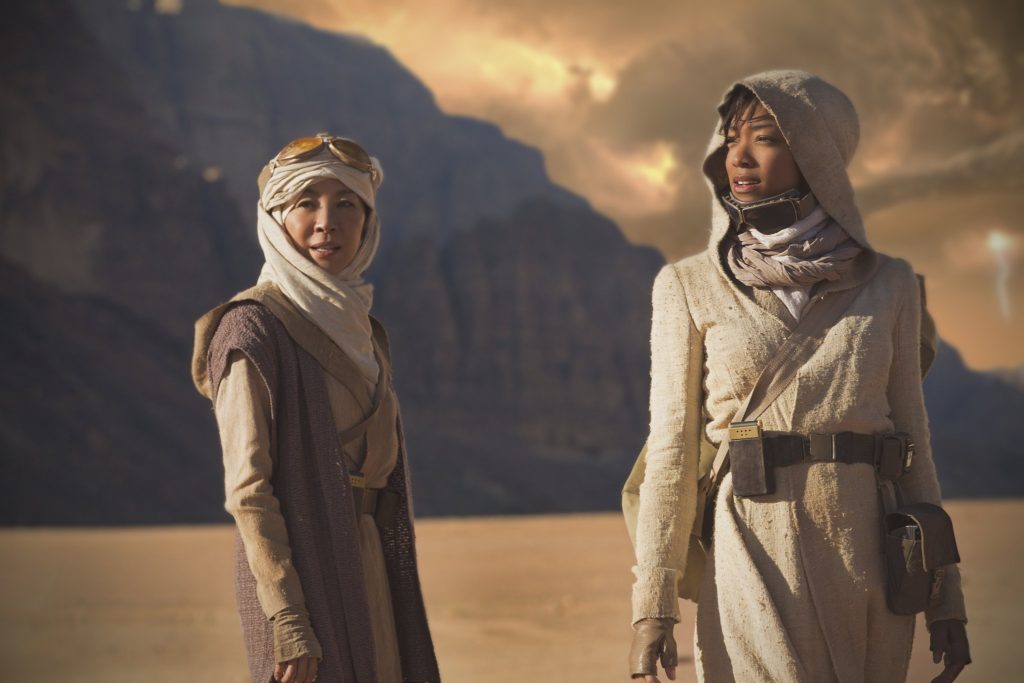 The new show stars The Walking Dead's Sonequa Martin-Green as First Officer Michael Burnham. Michelle Yeoh also stars as Captain Philippa Georgiou and Jason Isaacs is playing Captain Lorca. The show will also feature Doug Jones as science officer Lt. Saru, Anthony Rapp as science officer Lt. Stamets, James Frain as Spock's father Sarek, Terry Serpico as Starfleet admiral Anderson, Maulik Pancholoy as Doctor Nambue, Mary Wiseman as Cadet Tilly, and Sam Vartholomeos as Ensign Connor. There will also be several Kligons: Chris Obi as T'Kuvma, Mary Chieffo as L'Rell, Kenneth Mitchell as Kol, Damon Runyan as Ujilli, Clare McConnell as Dennas. And oh yeah, Rainn Wilson is playing Harry Mudd.
Of their ever-stretching premiere date, CBS had previously released a statement saying, "We love the cast, the scripts and are excited about the world the producers have created. This is an ambitious project; we will be flexible on a launch date if it's best for the show. We've said from the beginning it's more important to do this right than to do it fast. There is also added flexibility presenting on CBS All Access, which isn't beholden to seasonal premieres or launch windows."
You may recall the series was previously being spearheaded by Bryan Fuller but he left the project last October. Here was our first look at the U.S.S. Discovery.
The show will air this Fall.