There Are 11 Wizarding Schools in the World & Other Facts From the Updated Pottermore
The other day we found out Pottermore had reinstated the Sorting Ceremony but I'm happy to report new things are also afoot! Wizard schools were revealed at the Celebration of Harry Potter at the Universal Orlando Resort.
Fans and stars united for a special occasion at Universal Orlando. Evanna Lynch, who played Luna Lovegood in the film series, was pleased to announce some new information from J.K. Rowling about the Wizarding World at large but the information was also uploaded to Pottermore for everyone to consume.
How many of you can tell me about wizard schools outside of Hogwarts?
Ok, ok. Calm down. We found out bits and pieces about other wizarding school's in Rowling's books, particularly Harry Potter and the Goblet of Fire, but Pottermore has provided us with a plethora of knowledge. For instance:
"There are eleven long-established and prestigious wizarding schools worldwide, all of which are registered with the International Confederation of Wizards. Smaller and less well-regulated institutions have come and gone, are difficult to keep track of, and are rarely registered with the appropriate Ministry (in which case, I cannot vouch for the standard of education they might offer)."
"As a general rule, magical schools tend to be situated in landlocked, mountainous areas (although there are notable exceptions, as will be seen), as such regions are difficult for Muggles to access, and easier to defend from Dark wizards."
Mahoutokoro [pronounced Mah – hoot – o – koh – ro], is the school located in Japan and has the smallest student body.
"While day students, wizarding children are flown back and forth to their homes every day on the backs of a flock of giant storm petrels. The ornate and exquisite palace of Mahoutokoro is made of mutton-fat jade, and stands on the topmost point of the 'uninhabited' (or so Muggles think) Volcanic island of Minami Iwo Jima."
The students there wear enchanted robes which change in color from faint pint to gold as they learn more. But:
"If the robes turn white, this is an indication that the student has betrayed the Japanese wizard's code and adopted illegal practices (which in Europe we call 'Dark' magic) or broken the International Statute of Secrecy."
Uagadou [pronounced Wag-a-doo], on the other hand is the largest school and is apparently carved into the side of a mountain in Africa (Uganda, to be more specific.).
"Much (some would say all) magic originated in Africa, and Uagadou graduates are especially well versed in Astronomy, Alchemy and Self-Transfiguration."
"The wand is a European invention, and while African witches and wizards have adopted it as a useful tool in the last century, many spells are cast simply by pointing the finger or through hand gestures."
"Students receive notice that they have gained entrance at Uagadou from Dream Messengers, sent by the headmaster or headmistress of the day. The Dream Messenger will appear to the children as they sleep and will leave a token, usually an inscribed stone, which is found in the child's hand on waking."
Castelobruxo [pronounced Cass – tell – o – broo – shoo], is located in Brazil and appears as a ruin to Muggles.
"Both building and grounds are protected by the Caipora, small and furry spirit-beings who are extraordinarily mischievous and tricky, and who emerge under cover of night to watch over the students and the creatures who live in the forest."
"Castelobruxo students wear bright green robes and are especially advanced in both Herbology and Magizoology; the school offers very popular exchange programmes for European students who wish to study the magical flora and fauna of South America. "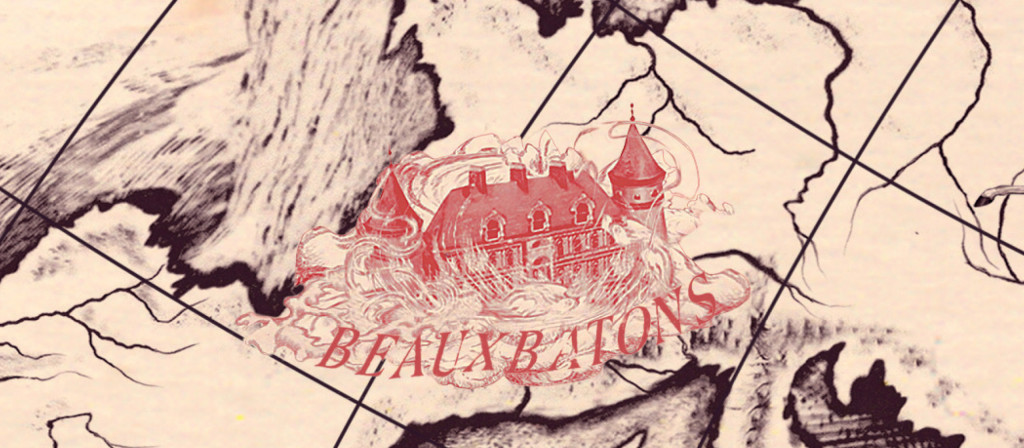 Beauxbatons [pronounced Bo – batton] Academy of Magic is familiar to Harry Potter fans already.
"Beauxbatons Academy has a preponderance of French students, though Spanish, Portuguese, Dutch, Luxembourgians and Belgians also attend in large numbers (both Beauxbatons and Durmstrang have a larger studentship than Hogwarts)."
"It is said that the stunning castle and grounds of this prestigious school were part-funded by alchemist gold, for Nicolas and Perenelle Flamel met at Beauxbatons in their youth, and a magnificent fountain in the middle of the school's park, believed to have healing and beautifying properties, is named for them."
Durmstrang [pronounced Doorm – strang] Institute is another we're also familiar with but Rowling notes it has the unfortunate reputation of having been lead by nefarious wizards – Harfang Munter, Igor Karkaroff, and Gellert Grindelwald.
"Although believed to be situated in the far north of Europe, Durmstrang is one of the most secretive of all schools about its whereabouts, so nobody can be quite certain. Visitors, who must comply with memory charms to erase their knowledge of how they got there, speak of vast, sprawling grounds with many stunning views, not least of the great, dark, spectral ship that is moored on a mountain lake behind the school, from which students dive in summertime."
Information about Ilvermorny [pronounced Ill – ver – morn – ee], the wizarding school in North America, has yet to be uploaded to Pottermore. However, Rowling has previously revealed on Twitter indigenous magic was important in the founding of the school which also has Houses similar to Hogwarts. Newt Scamander, protagonist of the upcoming Fantastic Beasts and Where to Find Them, meets people who were educated at this school which is not located in New York. We also know Americans have a different word for Muggles.
What do you think of the new information? We now know seven of the eleven schools with empty spots on the world map including Australia, South Asia, and a good chunk of Europe. That would still only bring us up to ten, could there be a school on one of the Earth's poles?
And if you want to take a closer look at that map, I've cropped a few images and posted them on Tumblr.