Bruce Wayne, Diana Prince, Clark Kent Form Secret Hero Society with Nguyen and Fridolfs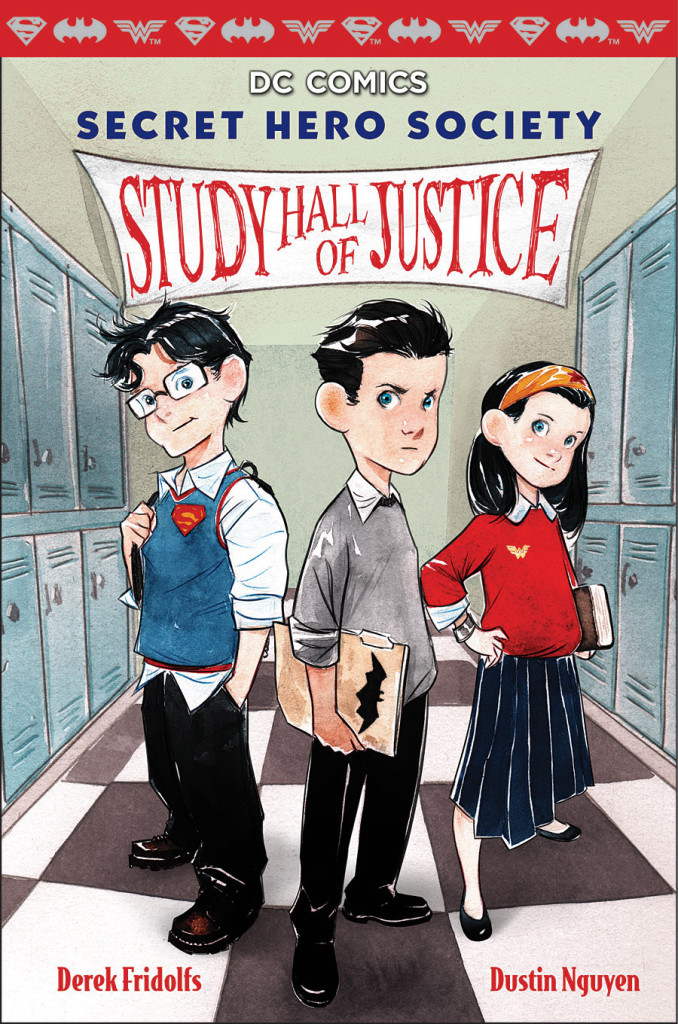 Secret Hero Society: Study Hall of Justice is a new all-ages DC Comics and Scholastic title from Li'l Gotham team Derek Fridolfs and Dustin Nguyen. And it looks fantastic!
Comic Book Resources has an interview up with the creative team and desribes the series:
Their latest collaboration brings them back together for a venture that also unites DC Comics with Scholastic for a new series of books that takes a different approach to DC's biggest heroes. "Secret Hero Society: Study Hall of Justice" finds a young Bruce Wayne enrolled at Doomvale Academy, a school with a musclebound bully named Bane, a joker gang and Hugo Strange on staff, among other problems. Bruce joins forces with fellow students Clark and Diana to investigate the school's sinister secrets.
Reminds me a bit of that Gotham High animated series that never was. And if you're wondering how these characters differ from Li'l Gotham's cast, Nguyen told CBR here they're actually teens, whereas in Li'l Gotham they're meant to be adults.
Fridolfs told them, "It's a new process for us because it's DC-related but it's not through normal channels. We're going through the bookstore market, the children's book market. There's lots of levels to get approvals but other than that we have a wide range of freedom."
Also, since this is a book rather than comic, the pages are smaller and the images are in black and white. Both creators said they had to make adjustments for that. But what about the writing?
CBR: The fact that much of the story is told through journal entires, text messages and report cards I would imagine means you have to write it differently than traditional comics. What was that process like?

Fridolfs: It's a different mindset you get into. You have to switch out of thinking visually and think how to tell these stories with a lot more work than I'm used to. With something like this you get a chance to get into the heads of the characters more, you get to hear their voices. You're not limited to the page count and panel count that you get in a normal comic so you get these journal entries by the characters and get inside their heads that way. It was daunting but it was also freeing at the same time getting a chance to work out how these characters think and talk.

A lot of it is coming up with different ways to present situations. It would be very easy to have nothing but computer journal entries and that would be very boring read so you try to think of different angles to present the story and also make it fun for Dustin to draw and come up with something visually that will be interesting to the reader and to the artist.

Nguyen: The texting surprised me because I didn't know you knew how to send a text, Derek. You're the most technologically backward person I know. [Laughs]
Make sure to head over to CBR to check out some character designs and a look at the interior. [Editor's Note: affiliate link] Secret Hero Society: Study Hall of Justice, the first book in the series, is 176 pages and is available to order now!
And don't forget the Capstone DC Heroes book series in which yours truly stars!