Nerdy News: Lion King's Scar, The Dark Tower TV Show, CW's Superhero Crossover & More
Lots happening in the realm of Nerdy News this week! Star Wars shakeups, a fantastic potential Lion King casting, movement on The Dark Tower TV show and more!
The Hollywood Reporter says Doctor Strange's Chiwetel Ejiofor is in talks to voice Scar in Jon Favreau's The Lion King. It's not only an exciting prospect, it's also a relief. I'd previously seen rumors going around that Hugh Jackman might take the role. He's wonderful of course but for a film based in Africa that's already cast several white actors, it would be nice if at least all the leads were POC. As a reminder, Donald Glover is playing Simba, James Earl Jones will reprise his role as Mufasa, Billy Eichner is Timon, Seth Rogen is Pumbaa, and John Oliver is voicing Zazu. The director previewed some of the first footage at D23 last month but Disney has not released it to the public.
Star Wars: Episode IX is getting a new writer. THR reported Jack Thorne (who worked on the Harry Potter and the Cursed Child play) has been brought in to work on the script already in existence from director Colin Trevorrow and his writing partner Derek Connolly. Many fans are sharing wishes that Lucasfilm and Disney will replace the director, especially in light of the Han Solo shakeup recently. Trevorrow's recent failings with The Book of Henry don't help though he recently told THR he hopes fans will give him the benefit of the doubt.
'Not only did I grow up on these stories, like all of us did, [but] I think that the values of Star Wars are values that I hold very close and very dear in my life,' he explained. 'I feel that the message of the way that the Force teaches you to treat other people and show respect for others, and the way it guides you through life, is really important to me. And I hope everybody would realize that that set of stories has affected me as deeply in my life as it has affected them.'
The release date for Pacific Rim: Uprising was just pushed back to March 23, 2018. We saw the first teaser featuring John Boyega last month.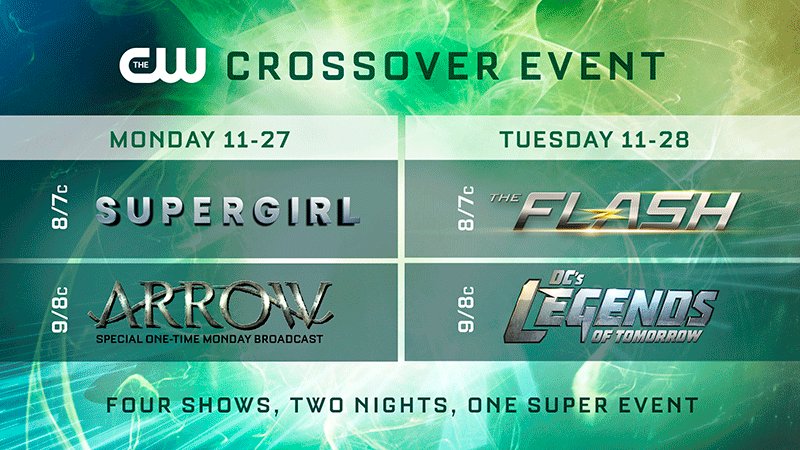 The CW has announced details on the next big superhero crossover for Supergirl, Arrow, The Flash, and Legends of Tomorrow. Entertainment Weekly writes: "The crossover will kick off Monday, Nov. 27 with Supergirl followed by Arrow — moving to Monday at 9 p.m. ET just for the event — and will conclude on Tuesday, Nov. 28 with The Flash and DC's Legends of Tomorrow in their regular timeslots. (Arrow will not air on Thursday that week.)" It also looks like they're aiming for it to be more concise this time around rather than trying to make each piece feel like the respective show.
In related news, The Flash will welcome Hartley Sawyer as Ralph Dibney, aka The Elongated Man to the show for Season 4.
The new Hellboy film, starring David Harbour in the lead role, has cast Deadwood and American Gods actor Ian McShane as Hellboy's adoptive father, Professor Broom.
Lastly, though The Dark Tower movie is getting disappointing reviews, THR had updates on the long-discussed tie-in television series. They say The Walking Dead's Glen Mazzara will be the showrunner and Idris Elba would play at least some part, but there's still no network attached. "The potential TV series will revolve around a younger Roland and his group," THR reports, "The TV entry will be based on Wizard in Glass, the fourth book in The Dark Tower series." I wouldn't hold my breath on this one.