When Geek Girls Attack!
The LA Times' "
Girls' Guide to Comic Con 2009
." You've read it. Or at least
read about it
. Yes, they did make gross generilizations about the geek girl community. Yes, they really did tell us we'd be rushing to wash laundry on Jake Gyllenhaal's stomach. They also said, "Pixar can do no wrong by anyone."
ORLY
? Oddly enough, in the same photo gallery they write the line, "Get your female empowerment right here," but that just makes me laugh and lauuugh.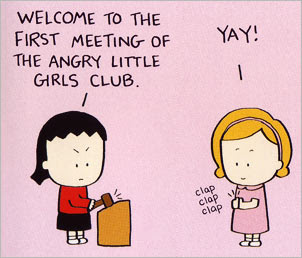 Anyway, I'm not here to beleaguer the point. Many other lovely geeky ladies have written well on the subject already. I'm here to give you my very own Logical Girls' Guide to Comic Con. This will be my first year attending SDCC but I have attended other cons so this will be a general guide with a few specifics thrown in that I've heard from others. It may be snarky at times, it will be realistic and it also may make the boys want to vomit. You are forewarned.
Wear comfortable shoes. I use a scooter to get around and even I know this. Unless you are in costume, don't wear anything with heels. You will be walking A LOT.
Get to Hall H, mmmm right about now. Yeah, it's insanity on the worst level. If you're going with a large group taking turns holding the place in line might be a good idea too. Pick what's most important to you and camp.
Bring a decent sized bookbag/purse. You'll likely be picking up lots of free swag, not to mention all the fun things you'll purchase. You can always get a plastic bag there but why fill up your arms more than you have to?
Check your balance before you go. Bank balance and credit card balance. How much can you really afford to spend at Comic Con? Trust me, it's like walking into a candy store. Everywhere you look there will be something you love and MUST HAVE! Be realistic and set yourself a budget, no one should go into bankruptcy over action figures. As much as we may want to.
Batteries. The LA Times lead us to believe we'd need them for our mid-panel sex toy breaks but you'll really be cursing yourself if you forget them for your camera. Even if the ones in there now are BRAND NEW, buy a whole new package to take with just in case! If nothing else you might turn out to be the savior of another fan who needs to capture a memorable moment.
DO NOT attack the celebrities. Speaking of memorable moments, you might just run into a creator or actor you love walking around on the show floor. It happens. When it does be respectful. If they look like they're trying to avoid making eye contact you probably shouldn't approach them. Remember, they're fans too and it sucks that they don't get to enjoy Comic Con like everyone else.
Bring your school supplies. Pens, pencils, sharpies, paper and a sketchbook are all good ideas. Getting sketches from your favorite artists can be a lot of fun but make sure to get to them early, their commission lists fill up fast. That's not to say some won't doodle a quick sketch for you inbetween but that doesn't go for everyone. Use other paper or a notebook to keep track of the panels you want to attend or tables you want to hit instead of having to flip through the program guide 20 times a day. Not to mention you can exchange info with all the other geek girls you meet! There are TONS of us and we're forming an army.
Bring your own food and drinks. It's just like attending any other "event," they charge and arm and a leg. If you are being leisurely you can head outside to eat at a restaurant but if timing is tight for panels you'll be glad you brought a sandwich. Or some chocolate. You know how us girls are.
Don't eat. "Huh," you say? This only pertains to those of you going in costume. Most cosplay costumes are tight/revealing/hard to get in and out of. The less bathroom breaks, the better. Eat a hearty breakfast but then eat as little as possible during the day. You know what makes you bloat, don't eat it. You will be getting pictures taken of you constantly. Don't starve or hurt yourself for fashion though. I suggest keeping a few granola bars handy and definitely water. The last thing you need at Comic Con is a UTI.
Extra tampons. We can't all be lucky and not have our periods during Comic Con. Hey, maybe you'll be extra cursed and get it mid-con! Ugh. Don't rely on those machines or friends to have your back, er, front. You'll want to punch them in the face when they say, "Why would I have one, I don't have MY period." Same idea as above with the batteries, you might wind up helping someone else out big time.
Sunscreen. You will be in San Diego after all. I hear it's sunny there sometimes.
Condoms. Cuz hey, you never know when Jake Gyllenhaal, Robert Pattinson, Taylor Lautner, Eric Bana, Alex O'Loughlin, Gabriel Macht, Benicio del Toro, Johnny Depp,Stephen Moyer, Alexander Skarsgard, Sam Trammel, Ryan Kwanten, Brad Pitt, Robert Downey Jr., Jude Law, Denzel Washington, Paul Wesley, Ian Somerhalder, Johnny Galecki, Jim Parsons, Morris Chestnut, Scott Wolf Jensen Ackles, Jared Padalecki, Tom Welling or Channing Tatum is gonna walk up to you and say, "WANNA FUCK?"